Jim McMahon Was Paying Respect to The 1985 Chicago Bears
Published on September 1st, 2022 6:46 pm EST
Written By:
Dave Manuel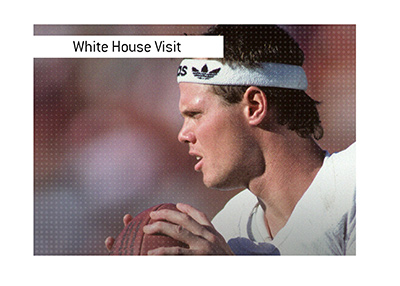 In 1997, the Green Bay Packers had the honor of visiting the White House, where they were welcomed by President Bill Clinton.
Jim McMahon was a backup quarterback for the Packers that year. McMahon was nearing the end of his career - in fact, he would retire after the Packers won the Super Bowl.
-
If you look at the pictures of the Packers visiting the White House, you'll notice something funny - Jim McMahon wearing a Bears jersey.
There is a picture of Bill Clinton posing with the Packers team.
In the back row is Jim McMahon, wearing sunglasses and his old Chicago Bears jersey.
The Bears are a hated rival of the Green Bay Packers, so some people were upset.
Jim McMahon, however, had a good reason for wearing the jersey.
-
In early 1986, the Chicago Bears won the Super Bowl.
The Bears, however, would never visit the White House.
The reason?
The Challenger space shuttle disaster took place a few days after the Super Bowl, and celebrating the win at the White House didn't seem right.
Over 10 years later, however, Jim McMahon thought that he would pay tribute to that team by wearing his Bears jersey to the White House.
After all, the Bears had never gone to the White House - now was McMahon's chance to honor his team.
McMahon talked to some members of the Packers about his plan, and they were okay with it.
Many fans, however, didn't like the move, but McMahon didn't care - he was out the door anyways, already thinking about his retirement.
-
The 1985-86 Chicago Bears were eventually honored by President Obama in 2011, as the team was invited to the White House.