Jim Brown's Dominance Led To Lacrosse Rule Change
Published on May 21st, 2023 1:36 pm EST
Written By:
Dave Manuel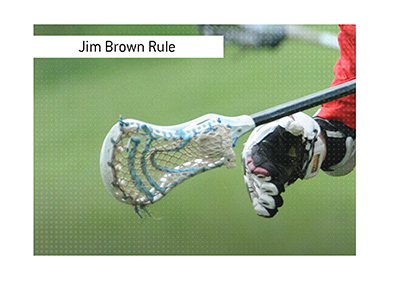 Jim Brown, who recently passed away at the age of 87, is widely regarded as one of the very best NFL players of all time.
Did you know, however, that Brown also excelled in a number of other sports, including lacrosse?
In fact, Brown said that he would have chosen to play professional lacrosse over professional football, had that been a feasible option for him.
-
While attending Syracuse University, Brown played four sports - football, basketball, lacrosse and track.
Brown obviously excelled in football, though his accomplishments in the other sports can't be downplayed.
In fact, Brown was a two-time All-American in the game of lacrosse - in his senior year, he was named a first-team All-American after scoring 43 goals and 21 assists.
-
Brown, as you can imagine, was a handful to deal with on the lacrosse field.
Getting the ball off of Brown was a near impossibility, and his dominance led to a rule change that required players to keep their sticks in constant motion while carrying the ball.
This is informally called the "Jim Brown Rule".
Prior to that, the Syracuse lacrosse team would give the ball to Brown, and he would simply charge around the field, placing the stick close to his chest.
How are you going to take the ball off of somebody that is a top college running back? Have fun with that.
-
Jim Brown loved the game of lacrosse, and his dominance of the game changed the rules of the sport forever.