Jay Berwanger Never Played in the NFL
Published on November 6th, 2022 12:38 pm EST
Written By:
Dave Manuel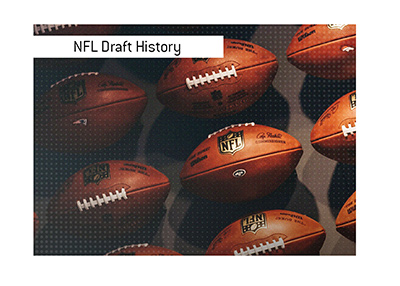 Here's an interesting bit of NFL history for you:
The first-ever NFL draft pick, Jay Berwanger, never actually played in the NFL.
-
Jay Berwanger had an excellent three-year college career playing for Chicago, and in 1935, won the Downtown Athletic Club trophy, which would be renamed the Heisman Trophy the following year.
Berwanger was also named Big Ten Most Valuable Player in 1935 and was an unanimous All-American.
-
It just so happened that when Berwanger left school, the NFL was holding its very first draft in 1936.
Prior to the 1936 NFL draft, NFL teams would bid on negotiating rights for amateur players. To attempt to make things more fair, the NFL instituted the draft for the 1936 season.
Given that halfback Jay Berwanger had just been named the best player in the nation, it was no surprise when he was taken by the Philadelphia Eagles first overall.
-
The 1936 NFL Draft obviously took place well before the days of multi-million dollar contracts for rookie players.
Berwanger, who had a keen interest in business, had a decision to make.
At the time, NFL players did not make much money. Many teams were struggling, and NFL players certainly didn't have anything close to financial security from their deals.
Berwanger believed that he was worth $1,000 per game, which was far more than what the vast majority of players in the NFL were making.
In addition, Berwanger wanted to preserve his amateur status so that he could compete in the Olympics (decathalon), unless he was going to be well-compensated for turning pro.
The Eagles decided that they wouldn't be able to meet these demands, so Berwanger's rights were traded to the Chicago Bears.
-
After missing out on the Olympics, Berwanger turned his attention to negotiating with the Bears and their own, George Halas.
According to reports, Berwanger was asking for $15,000 per year, while the Bears came up to $13,500.
-
Berwanger had another job offer on the table - working at a Chicago rubber company.
Instead of joining the Bears, Berwanger elected to take the job working at a rubber company, and would never play a professional football game in his life.
-
Berwanger would later have regrets about the move, and would sound people out about the possibility of Halas offering the deal again a year later.
Halas said that the deal was no longer on the table, and that the time for a deal had passed.
That's the story of the first ever NFL draft pick that never played in the NFL.