"Hefty Lefty" Tipped the Scales at 285 Pounds
Published on October 19th, 2023 5:58 pm EST
Written By:
Dave Manuel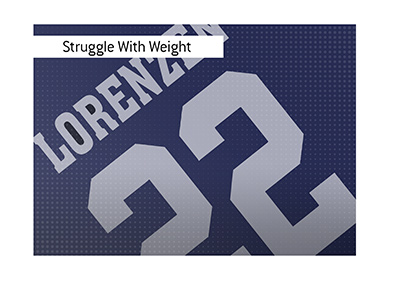 Everybody is probably familiar with the story of JaMarcus Russell, who once tipped the scales at over 300 pounds during a training camp weigh-in.
Russell, however, never played at this weight.
The title of heaviest ever quarterback to play in a NFL game belongs to Jared Lorenzen, who was also known as "Hefty Lefty".
-
Lorenzen was undrafted in the 2004 NFL Draft after putting up some decent numbers at Kentucky over his four-year stint with the school.
The Giants liked what they saw in Lorenzen, so they elected to sign him as an undrafted free agent.
Lorenzen was offered the chance to play in NFL Europe, though he declined, instead opting to serve as the third-string quarterback for the team.
-
Lorenzen was a big guy.
Teams prefer big quarterbacks that are both tall (being able to see over defenders) and a bit on the bigger side (able to absorb punishment from defenders better).
Lorenzen certainly qualified in both respects, as he was 6'4 and 285 pounds.
This was not his training camp weight - this was his actual playing weight.
-
As the third-string quarterback for the Giants (behind Eli Manning), you can imagine that the team used him sparingly.
In fact, Lorenzen was used mostly for a very specific purpose - using his weight to get a first down in third-and-short situations.
In his first year in the league, Lorenzen touched the ball twice (including the playoffs), rushing for a first-down in both instances.
Lorenzen would make two appearances during the 2007 season, and both appearances were due to injuries.
Lorenzen would throw 8 passes for 4 completions in 2007, for a total of 28 yards.
-
Lorenzen collected a Super Bowl ring during the 2007 season, and would be released from the Giants in the summer of 2008.
This would be the last time that Lorenzen would see NFL action, though he managed to establish himself in the record books during his short stint in the NFL.
There is a good chance that Lorenzen will maintain his standing as heaviest ever NFL QB for a good many years to come.