James Harden Currently 1.30 To Win NBA MVP Award
Published on March 1st, 2018 12:15 pm EST
Written By:
Dave Manuel
Click Here To Bet on NBA MVP Race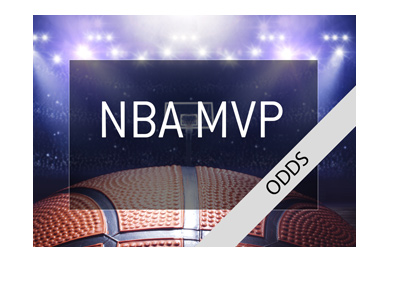 The NBA's MVP award this season is most certainly James Harden's to lose.
The Houston Rockets currently have the NBA's best record at 47-13 and are in the midst of a dominant 13-game winning streak. Harden has been front and center during the streak, as he has had a number of 40+ points games en route to bringing his season scoring average up to 31.6 points per game. In addition, Harden is also averaging over 5 rebounds and 8 assists per game.
James Harden has proven to be almost impossible to guard and this has opened up his teammates for easy shots.
In addition, Chris Paul has helped to find Harden for plenty of open shots, though the Houston Rockets offence still runs through Harden.
-
Given Harden's statistical strength and the Rockets' record so far this season, there should be no surprise that Harden is currently the odds-on favourite to win the MVP title.
In fact - it's not even close.
Here are the current NBA MVP odds:
Source: Bet365
Time Stamp:
March 1st, 2018 11:45 am EST
Odds Subject to Change
James Harden, 1.30
Lebron James, 4.33
Giannis Antetokounmpo, 17.00
Kevin Durant, 21.00
Anthony Davis, 21.00
Stephen Curry, 23.00
Kyrie Irving, 23.00
Russell Westbrook, 26.00
DeMar DeRozan, 67.00
Nikola Jokic, 67.00
Damian Lillard, 101.00
Chris Paul, 101.00
Joel Embiid, 101.00
Blake Griffin, 151.00
Louis Williams, 151.00
Karl Anthony-Towns, 151.00
Kyle Lowry, 151.00
Victor Oladipo, 151.00
Paul George, 151.00
Bradley Beal, 151.00
LaMarcus Aldridge, 201.00
-
While LeBron James has been spectacular as of late (he averaged a triple double in February), the Cavaliers are in third place in the Eastern Conference. It's pretty tough to make a strong case for James over Harden at this stage of the game.
The "Greek Freak" will almost certainly win the MVP award one year, though this is not going to be that year.
Do you think that Harden will win the MVP award? At this point, the only chance he loses would seem to be a season-ending injury.