Browning's 229 Touchdown Mark Still Hasn't Been Topped
Published on April 30th, 2023 1:35 pm EST
Written By:
Dave Manuel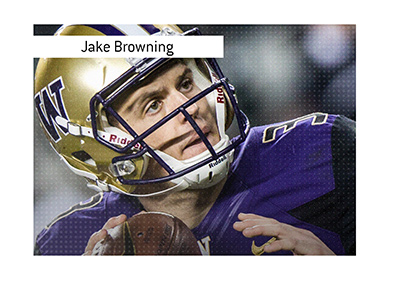 Jake Browning currently plays for the Cincinnati Bengals.
If you follow high school football, you have likely heard of Browning's name, as he holds multiple high school records, including most touchdown passes thrown in a single season (91) and most touchdown passes thrown over his high school career (229).
-
Browning attended Folsom High School, where he dominated both on the field and in the classroom.
Folsom High School (and the rest of California, for that matter) knew that Browning was something special, as he absolutely dominated in his sophomore, junior and senior years, compiling a total of 16,775 passing yards and 229 passing touchdowns.
Browning's senior year at Folsom was especially eye-popping, as he threw for 5,790 yards and 91 touchdowns.
Browning threw for just 7 interceptions that season, and averaged a total of 361.9 passing yards per game.
As a result of Browning's 91 passing touchdowns, he was able to pass Maty Mauk (219) to grab the national high school record for most passing touchdowns in a single season.
-
As a result of his prolific passing totals, Browning was a four-star recruit coming out of high school, and eventually chose the University of Washington.
Browning's best year in college came in 2016, when he threw for 3,430 yards and 43 touchdowns.
After this season, Browning was being talked about as a potential high first-round pick in a future NFL draft, though his numbers would tail off in his junior and senior seasons with the team.
Browning would eventually sign with the Minnesota Vikings as an undrafted free agent.
-
To give you an idea of how hard this record will be to beat, Browning averaged just under 5 passing touchdowns PER game over his three year high school football career.
If you want to beat this record, you will have to be practically perfect every game of your high school football career.