Youngblood Proved His Toughness By Playing Super Bowl With Broken Leg
Published on October 30th, 2022 12:16 pm EST
Written By:
Dave Manuel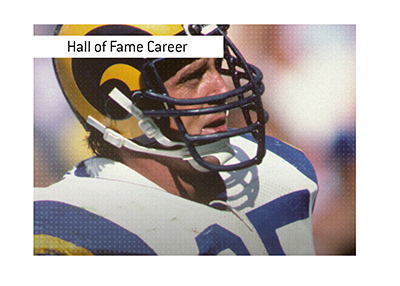 Jack Youngblood had a long and storied career with the Los Angeles Rams, as he played defensive end for the team between 1971 and 1984.
Youngblood, who was inducted into the Pro Football Hall of Fame, was a first-team All-Pro five times over the course of his career, and made a total of 7 Pro Bowls.
Youngblood, however, may also be known as the toughest NFL player of all time, thanks to what happened in the 1979 post-season.
-
The 1979 Los Angeles Rams were a big surprise, and Youngblood was a massive part of that.
After getting off to a slow start, the Rams would win their division, led by Youngblood, who finished the season with a total of 18 sacks.
In a NFC Divisional round playoff game against the Cowboys, Youngblood suffered a bad injury, as he fractured his left fibula with his team down 14-5.
Instead of leaving the game, Youngblood had some instructions for the team's doctor - tape me up and put me back out there.
-
Youngblood went back out for the second half, and said that he only noticed the pain between plays.
During plays, Youngblood's body and adrenaline took over, and he didn't feel his injury.
As the leader of the defense, Youngblood was able to lead his team back, and the Rams would end up winning the game 21-19.
In fact, Youngblood would even record a sack in the second half.
-
With the Rams moving on in the playoffs, Youngblood couldn't pull himself out of the games.
The team needed him, and he kept playing, despite the broken leg.
Youngblood would play three games total in the 1979 post-season, including the Super Bowl, all on a broken leg.
This was back before the days of social media, so the team was able to keep the injury under wraps, and Youngblood's broken leg was only revealed to the world after the Super Bowl had concluded.
-
Youngblood would baffle his peers one more time that season, as he announced that he would still be playing in the Pro Bowl.
On a broken leg.