Ja'Marr Chase Threatening To Lap The Field
Published on October 24th, 2021 6:30 pm EST
Written By:
Dave Manuel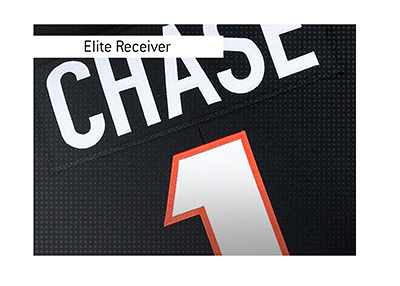 Ja'Marr Chase of the Cincinnati Bengals is threatening to lap the field in the race for the Offensive Rookie of the Year award.
This is a pretty striking 180 degree turn for Chase, as people were making a very big deal about his pre-season drops. Was drafting him over Sewell a mistake?
With the Cincinnati Bengals currently sitting at 5-2 and Ja'Marr Chase absolutely lighting it up, the answer seems to be a definitive NO.
-
After a 200+ receiving yard day against the Baltimore Ravens, Ja'Marr Chase now has 754 yards this season.
This is the MOST number of receiving yards by any player seven games into their career.
Chase is clearly a star, and he gives Joe Burrow yet another elite receiving threat.
-
The lack of quality rookie quarterbacks this season is helping to propel Ja'Marr Chase to the front of the Offensive Rookie of the Year race.
Mac Jones has likely been the best of the rookie quarterbacks, and you would have a very hard time saying that Mac deserves the ROY award over Chase.
In fact, this is an impossible argument to make.
Najee Harris has looked good so far, and the Steelers have a great running back in Harris, though he isn't in uncharted waters in terms of performance like Chase is.
-
Heading into the weekend of October 24th, the Offensive ROY betting odds looked like this:
Ja'Marr Chase, +275
Mac Jones, +425
Trevor Lawrence, +775
Najee Harris, +800
Justin Fields, +825
Following his Week 7 performance, Chase will likely be well below the +200 mark - in fact, I wouldn't be surprised if he were closer to a coin flip.
Lawrence and Fields can both likely be dismissed, as neither has done nearly enough to warrant consideration for the Offensive ROY award.
In reality, this is likely a three-horse race between Chase, Harris and Mac Jones.
The biggest risk to Chase's race for the ROY award at this point is injury, as it seems hard to imagine anybody else mounting a serious challenge, given that Chase is on track for over 1,700 receiving yards this season.