2019 Report Listed Georgia as Top Spender at $3,676,858
Published on January 4th, 2023 1:50 am EST
Written By:
Dave Manuel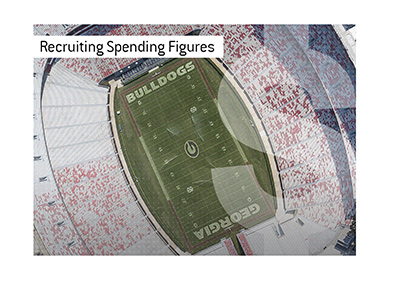 Recruiting is obviously a big, big deal for college football programs.
It should not be surprising to learn that top college football programs spend millions and millions of dollars every year on recruiting, as they all want to land the very best players.
Let's start with how recruiting expenses are defined:
"Input transportation, lodging and meals for prospective student-athletes and institutional personnel on official and unofficial visits, telephone call charges, postage and such. Include value of use of institution's own vehicles or airplanes as well as in-kind value of loaned or contributed transportation".
One of the biggest expenses will be flying athletes out to schools for visits. This can be in the form of chartered flights, or the cost of using a school's own private jet.
-
State-of-the-art facilities, coaches and stadium improvements are all valuable recruiting weapons as well, but these costs are obviously not included in recruiting costs.
-
According to this report
, Georgia had the highest recruiting costs in 2019 by far, as they topped out at over $3.5 million.
This coincided with the hiring of Kirby Smart as the team's head coach a couple of years prior. Georgia committed to spending more to make their team a powerhouse, and that translated into a much higher spend on recruiting.
The results speak for themselves.
-
Here are the 2019 recruiting spending figures for the top 10 schools:
Georgia - $3,676,858
Alabama - $2,663,467
Tennessee - $2,247,289
Clemson - $2,234,173
Arkansas - $1,931,026
Texas A&M - $1,673,204
LSU - $1,607,148
Penn State - $1,529,068
Florida State - $1,503,142
Michigan - $1,411,989
As you can see, most of the top football programs in the country are on this list, which shouldn't be surprising.
As the business of college football gets bigger and bigger, expect these numbers to continue to skyrocket in the future.