"Holy Roller" Remains One of Most Controversial Plays of All Time
Published on December 6th, 2020 2:20 pm EST
Written By:
Dave Manuel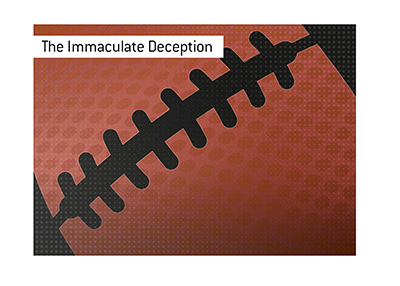 The "Holy Roller" remains one of the most controversial NFL plays of all time.
In fact, fans of the San Diego Chargers (now Los Angeles Chargers) are still bitter about the play, as it may have ended up costing them a spot in the 1978 NFL playoffs.
Let's set the stage.
It's September 10th, 1978. The Oakland Raiders are on the road and playing against the San Diego Chargers.
There are 10 seconds left in the game. The Raiders are down 20-14, though they are threatening and on the Chargers' 14-yard line.
Raiders quarterback Ken Stabler drops back to pass but is quickly pressured by Chargers linebacker Woodrow Lowe. Stabler is about to be sacked, which will be the end of the game.
The ball comes out of Stabler's hands and bounces towards the Chargers endzone.
Raiders running back Pete Banaszak attempts to recover the ball and "accidentally" pitches the ball towards the end zone.
Raiders tight end Dave Casper then attempts to recover the ball, where he "accidentally" kicks the ball into the end zone. Casper falls on the ball to score the winning touchdown.
The officials conferred and ruled that the play was a touchdown, as it was impossible to know whether or not the players had intentionally batted the ball forward, which was against the rules.
Stabler, Banaszak and Casper all vowed at the time that they didn't intentionally bat the ball forward. In a 2008 interview, however, Stabler confessed, saying that he had intentionally batted the ball forward.
-
Here is a look at the "Holy Roller", courtesy of NFL Films:
-
The NFL would change their rules immediately after the 1978 season as a direct result of the "Holy Roller" play.
The rules now state that only the offensive player who fumbled the ball can advance it in the final two minutes of a game or overtime.
-
San Diego/Los Angeles Chargers fans have their own name for this play:
The Immaculate Deception.