Barack Obama Was The Biggest Recorded Favorite Before an Election
Published on November 3rd, 2020 8:15 am EST
Written By:
Dave Manuel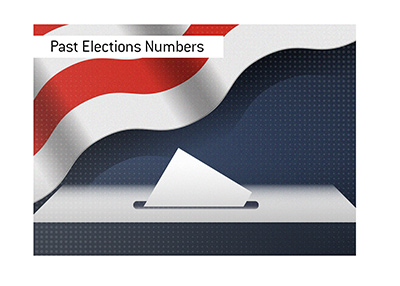 There is now just one short day before voters head to the polls to the United States to determine the next President.
Polls currently have Joe Biden way ahead, though Trump supporters will adamantly remind you that the polls were completely wrong in 2016.
When people head to the polls on Tuesday, Joe Biden will be about a -200 favorite to become the next President of the United States, while President Trump will be a +150 underdog.
-
How do these numbers compare to past elections?
To start, we don't have much data to rely on, as betting on the Presidential election really only started when online sports betting took off.
So, we can go back to the 2004 US Presidential election, between George W. Bush and John Kerry, as online sports betting didn't really start to take off until that point.
The 2004 contest between George W. Bush and John Kerry was quite close. Bush was about a -133 favorite to win just before the election, while Kerry was roughly a +115 underdog.
The 2008 election between John McCain and Barack Obama wasn't close when it came to the betting odds, as Obama entered election day as a -1250 favorite to win (which means that $1,250 would have had to have been wagered on Obama to win just $100 back - a massive favorite). These odds basically implied that McCain essentially had no shot of winning. The Republicans would end up getting mauled in this election, mainly thanks to the collapse of the subprime mortgage market and resulting fallout.
The 2012 election was a bit closer, though Obama was still a big favorite to defeat Mitt Romney, as he entered election day as a -357 favorite.
Hillary Clinton, finally, entered election day as a -400 favorite.
Hillary Clinton, however, was the lone candidate to enjoy a commanding lead at the sportsbooks prior to the election, only to lose.
-
In short - betting odds prior to an election don't necessarily predict the future, as evidenced by the 2016 Presidential election, when Trump "beat the odds" to shock Hillary Clinton.