A Look at the Highest Scoring NFL Regular Season Games of All Time
Published on September 12th, 2020 1:18 pm EST
Written By:
Dave Manuel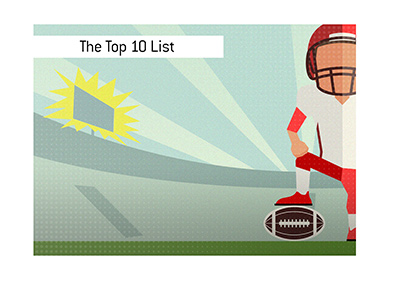 Of the ten highest scoring NFL games in history, five came during the "modern era", while the other five came in the '40s, '50s and '60s.
Of the ten highest scoring games in NFL history, a total of six saw the two teams involved put up more than 100 points total.
The highest scoring game in NFL history belongs to a November 27th, 1966 clash between the Washington Redskins and New York Giants. The Redskins won the game 72-41, with the two teams combining for a total of 113 points. The Giants were absolutely terrible that season, as they entered the game with a record of 1-9-1.
The Redskins didn't have a particularly stunning offensive game, though they picked off the Giants five teams and had a total of three defensive/special teams touchdowns.
The highest scoring game of the "modern era" belongs to a 2004 contest between the Cincinnati Bengals and Cleveland Browns, which the Bengals won by a score of 58-48 (106 points).
Carson Palmer and Kelly Holcomb combined for nine passing TDs in this game, though they also had a combined five interceptions.
Another notable contest was the 54-51 Monday Night Football clash between the Los Angeles Rams and Kansas City Chiefs on Monday Night Football on November 19th, 2018. Many people believe that this was the greatest regular season game of all time, with Mahomes and Goff combining for 10 throwing TDs.
-
Here is a complete list of the top scoring NFL games of all time:
1. 72-41, Washington Redskins over New York Giants, November 27th, 1966
2. 58-48, Cincinnati Bengals over Cleveland Browns, November 28th, 2004
3. 54-51, Los Angeles Rams over Kansas City Chiefs, November 19th, 2018
4. 63-40, San Francisco 49ers over Brooklyn Dodgers, November 21st, 1948
5. 52-49, New Orleans Saints over New York Giants, November 1st, 2015
6. 52-49, Oakland Raiders over Houston Oilers, December 22nd, 1963
7. 51-48, Denver Broncos over Dallas Cowboys, October 6th, 2013
8. 51-48, Seattle Seahawks over Kansas City Chiefs, November 27th, 1983
9. 54-44, San Diego Chargers over Pittsburgh Steelers, December 8th, 1985
10. 63-35, Chicago Cardinals over New York Giants, October 17th, 1948