Aaron Rodgers Has Made $305.6 Million - And Counting
Published on March 2nd, 2023 5:37 pm EST
Written By:
Dave Manuel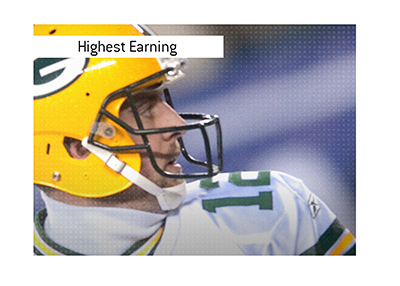 Which NFL player has earned the most money from contracts over the course of their careers?
The answer is Aaron Rodgers, who has made a little over $305 million over the course of his 18-year career.
Rodgers, who is currently debating whether or not to retire, could easily add another $100 million+ to his lifetime earnings if he continues to play, as he is still playing at a very high level.
With contract values soaring due to the ever-increasing revenues that the NFL enjoys, Aaron Rodgers will quickly move down the list of highest earning players when he decides to step away from the game.
After all, the likes of Joe Burrow, Patrick Mahomes and Josh Allen will be earning hundreds of millions of dollars over their careers, and if the league continues to ink ever-increasing TV deals, top quarterbacks will likely be making upwards of $75 million/year within the next decade.
-
As you could probably guess, the list of the league's top earning players (all-time) is dominated by quarterbacks.
Here are the five players with the most lifetime earnings as of this moment:
1. Aaron Rodgers, $305,608,010
2. Matthew Stafford, $300,806,037
3. Matt Ryan, $291,713,631
4. Russell Wilson, $238,362,520
5. Kirk Cousins, $201,669,486
Ndamukong Suh is the highest earning defensive player of all time, with total earnings of $168,165,157.
Trent Williams is the highest earning offensive non-QB player of all time, with total earnings of $148,540,970.
Julio Jones is the highest earning wide receiver of all time, with total earnings of $148,125,821.
Ezekiel Elliott is the highest earning running back of all time, with total earnings of $70,668,561.
*these numbers are all current as of March 2nd, 2023.
-
A top quarterback that enters the league now and plays for 15+ years is likely to earn well in excess of $500 million over the course of their careers.
Source:
Spotrac.com