The Story of the 1925 Chicago Cardinals - Milwaukee Badgers Game
Published on June 8th, 2022 2:32 am EST
Written By:
Dave Manuel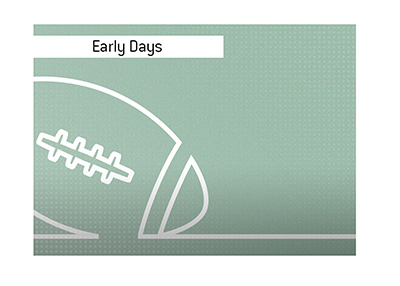 In 1925, four high school students were tricked into playing in a NFL football game.
Sounds crazy, right?
-
Back in 1925, the team at the top of the NFL standings at the end of the season was declared the champion.
There was no set schedule back then - if a team was near the top of the standings, they'd simply schedule extra games to earn extra points in the standings. The Chicago Cardinals, finding themselves a half game back of Pottsville at the top of the league, did just that.
The Cardinals scheduled two easy games for themselves - one against the Milwaukee Badgers, and one against the Hammond Pros.
These were both winnable games for the Cardinals, but Art Folz, a substitute quarterback for the Cardinals, decided to go a step further.
-
Folz, who had once attended Englewood High School, decided to recruit some high school players to play in the game.
They would, of course, be playing for the Milwaukee Badgers.
Folz would tell the students that it was simply a practice game and would not impact their amateur status.
Oh, and by the way, Folz said - we'll need you to play under assumed identities.
-
The four kids played in the game under assumed names. Predictably, the Badgers were smashed by a score of 58-0.
There was no television back then, and there were hardly any fans in the stands. The owner of the Badgers didn't attend the game, so it was easy to mix in the high school students.
-
Word eventually got out that high school players had played for the Badgers under assumed identities.
The President of the league, Joseph Carr, was not pleased.
He ordered the game stricken from the record (it wasn't - the game is still official and listed in the NFL archives).
He ordered that Badgers owner Ambrose McGuirk sell the team within 90 days.
He ordered Art Folz (who scored four touchdowns in the game) banned from the league forever.
The problem? Folz was a good football player, and the league didn't want him to join the newly formed American Football League, so they rescinded the lifetime ban the following year.
-
The high school players were eventually forgiven (though they claimed that they were duped all along) and two of them ended up as all-stars for their team.
Art Folz would never play football again following the 1925 season, even though his lifetime ban was to be lifted.