Gus Frerotte Sent Himself To Hospital After Headbutting Padded Wall
Published on January 24th, 2023 7:17 pm EST
Written By:
Dave Manuel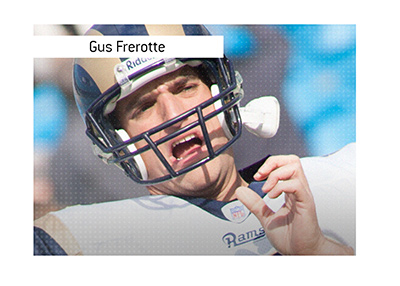 People like to talk about how Baker Mayfield enjoys headbutting his teammates even when he isn't wearing a helmet and they are.
In 1997, however, Gus Frerotte took things a bit further when he decided to headbutt a padded wall because he thought it would be "manly".
-
It was late November of 1997, and the New York Giants were playing the Washington Redskins in a crucial NFC East clash.
The Redskins entered the game with a 6-5 record, while the Giants were 7-4.
Gus Frerotte was coming off of the best year of his career, as he had passed for 3,453 yards the previous season. His follow-up season was going well, and he wanted to give his team a crucial win over the Giants.
Frerotte sometimes let his emotions get the better of him, and this was the case in the second quarter of the game against the Giants.
With the scored tied 0-0, the Redskins were on the Giants 1-yard line.
Frerotte's number was called, and he scampered into the right of the endzone for a touchdown.
Frerotte was so overwhelmed with joy that he elected to headbutt the padded wall outside of the endzone as hard as he could - later he would say that he thought the move would be "manly".
Frerotte recoiled after he hit the wall, and you can immediately tell that he was injured.
Frerotte was pulled from the game, with Jeff Hostetler taking his place.
Hostetler would throw 3 interceptions and get sacked 4 times, and the game would end in a 7-7 tie.
-
Frerotte's injury was so bad that he had to be taken to a local hospital, where he was examined by doctors.
Frerotte was diagnosed with a sprained neck.
-
To his credit, Frerotte has found the humor in the incident in his post-football playing days.
Frerotte would enjoy a long 15-year career in the NFL, where he would pass for over 21,000 yards.