Four Cards Top The List of Greatest UFC Cards Ever
Published on July 2nd, 2022 11:39 pm EST
Written By:
Dave Manuel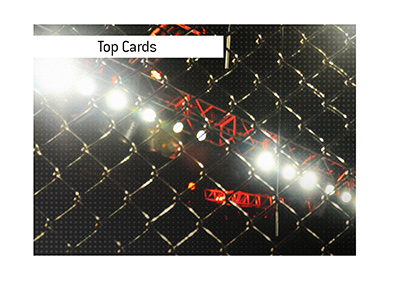 What was the greatest UFC card of all time?
Sometimes a UFC card will come out of nowhere to produce greatness. Sometimes a much-hyped UFC card will deliver.
This is the beauty of the UFC - you never know when a card is going to become an all-time great.
-
When it comes to the greatest UFC card of all time, there are four cards that could all be considered all-time greats, which is why we are including them all on this list, as they all deserve to be here.
Let's go through the list of the four greatest UFC cards of all time:
UFC 100
This card was pure fire from start to finish.
The card featured the punch heard around the world (Henderson knocking out Bisping), the emergence of Brock Lesnar into superstar status and the gutsy performance by GSP against Thiago Alves, when GSP famously pulled his groin in the middle of the fight.
This card launched the UFC into the stratosphere and produced the biggest PPV number of all time (at the time).
UFC 189
Conor McGregor continued his run to the top by stopping Chad Mendes in the main event.
The co-main event of this card featured one of the all-time great fights in the history of the promotion, as Robbie Lawler stopped Rory MacDonald to retain the Welterweight title.
UFC 199
Our personal choice for the best UFC card ever.
Michael Bisping shocks Luke Rockhold in the main event to win the Middleweight title.
Dominick Cruz outlasts Urijah Faber in the co-main event.
Max Holloway and Ricardo Lamas famously throw down in the middle of the Octagon.
Dan Henderson and Dustin Poirier both score massive knockouts.
In terms of an electrifying main card from start to finish, UFC 199 is hard to top.
UFC 261
The promotion's first card in front of a full arena since the start of COVID didn't disappoint.
Kamaru Usman scored a massive knockout of Jorge Masvidal in the main event. Rose Namajunas knocked out Zhang Weili to win the title. Valentina Shevchenko destroyed Jessica Andrade.
The atmosphere in the arena for this card was second-to-none, as fans released a year of pent-up frustration due to COVID lockdowns.
-
As mentioned, you can't go wrong with any of these four cards when it comes to the top card of all time.