Shane Lechler Stands Above The Rest
Published on April 30th, 2022 4:33 pm EST
Written By:
Dave Manuel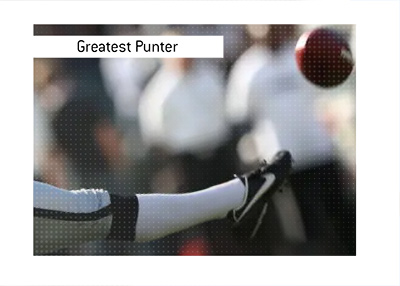 There have been some tremendous punters over the history of the NFL.
Yale Lary.
Ray Guy.
Sean Landeta.
These are just some of the names that should be in the "greatest punter ever" discussion, though one name stands above all of the rest.
Shane Lechler.
-
Shane Lechler is not in the Hall of Fame yet, though it is just a matter of time, as he is not yet eligible.
There is no doubt, however, that he deserves a spot in the Pro Football Hall of Fame, as he is the greatest punter that has ever lived.
Lechler enjoyed a long NFL career, playing 18 seasons in the league.
During that time, Lechler averaged 47.6 yards per punt, which is the highest average ever.
Lechler was still putting up numbers when he retired, as he averaged 49 yards per point in the last year of his career with Houston.
-
Lechler was a six-time First team All-Pro, 3-time Second team All-Pro and made the Pro Bowl seven times.
Lechler was the NFL punting yards leader a total of 4 times (2003, 2008, 2009 and 2017), and made TWO All-Decade teams (2000s, 2010s).
One more note about Lechler - he had a 33 consecutive game streak with a punt of at least 50 yards or more.
-
Shane Lechler - the greatest NFL punter of all time, and it's just a matter of time before he enters the Pro Football Hall of Fame.