Jerry West Tops The List of Greatest Players To Never Win MVP
Published on October 3rd, 2022 12:21 pm EST
Written By:
Dave Manuel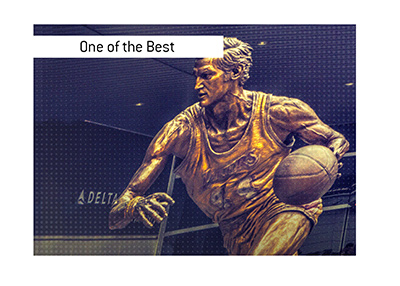 Some of the best players in the history of the NBA have never won the MVP award.
This list includes the likes of Elgin Baylor, Dwyane Wade, John Havlicek and more.
If you are talking about the absolute GREATEST player to never win the MVP award, however, you are left with one clear choice.
Jerry West.
That's right - the man who is literally the NBA Logo NEVER won the MVP award over the course of his storied career.
Jerry West, the man who was an All-Star EVERY season of his career.
Jerry West, the man who finished his career with an average of 27 PPG and nearly 7 assists per game.
Jerry West, the man who was a 10x member of the All-NBA First Team.
Jerry West, the man who led the NBA in scoring in 1970 and led the NBA in assists in 1972.
-
Jerry West finished second in the MVP vote a total of
four
times, as well as finishing in the top five a total of eight times.
If you think that the MVP award doesn't matter to players - it does.
Michael Jordan talked about needing to get revenge after Karl Malone was chosen for the MVP award over him.
Jerry West has publicly stated that he felt as though he should have won MVP in 1970, when he finished the season with a total of 31.2 PPG and 7.5 APG.
West would finish second place in the MVP award running that year, as he would receive 457 points to Willis Reed's 498.
Reed would finish with 21.7 PPG and nearly 14.0 rebounds per game, and was likely helped by the fact that the Knicks finished the season with a record of 60-22.
-
Jerry West has a large number of accolades to his name, though MVP is not one of them.