Cleveland vs Golden State in 2016 Continues To Stand Above the Rest
Published on December 24th, 2021 11:20 am EST
Written By:
Dave Manuel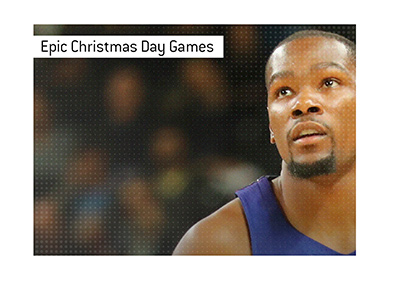 There have been some absolutely epic Christmas Day games in the NBA. And why not? The NBA picks the best teams to battle it out on Christmas Day, as the eyes of the world are watching.
The NBA will usually put the most interesting games on Christmas Day. A big star requests a trade and is traded away to another team? Chances are he will have a rematch against his old team on Christmas Day. Rematch of an epic Finals? Chances are, the two teams will battle for the first time on Christmas Day.
This dynamic has led to some unbelievably intense games. How about in 1994, when Scottie Pippen led the Bulls to an overtime win over the Knicks?
Or how about in 2004, when Shaq and his new team, the Miami Heat, defeated Kobe Bryant and the Lakers in overtime?
Or how about in 2008, when Kobe Bryant and the Lakers defeated the Boston Celtics in a finals rematch?
-
Tnese games all stand out as being great, though one game - in our opinion - stands above the rest.
It's Christmas Day, 2016.
The Cleveland Cavaliers, fresh off of their 3-1 comeback win against the Golden State Warriors in the NBA Finals just a few short months prior, are playing host to the Warriors.
The Warriors, after having their historic 73-9 season ruined by the Cavs, have added a new weapon to the mix - Kevin Durant.
The Warriors went into the fourth quarter leading by 14 points - Kevin Durant was making the most of things, as he would end up posting 36 points and 15 rebounds on the night.
Kyrie Irving, however, would not be denied, as he would score 14 of his 25 points in the fourth quarter, including a last second shot to give the Cavs a 109-108 victory.
The stars all played well, as Lebron James posted 31 points along with 13 rebounds.
Kyrie Irving was a force defensively as well, as he managed to come up with an eye-popping 7 steals.
-
There were so many storylines woven into the 2016 game between the Cavs and Warriors - it's hard to top it in terms of intensity and star power.