Jim Kelly Battled Steve Young on February 24th, 1985
Published on April 14th, 2023 1:07 am EST
Written By:
Dave Manuel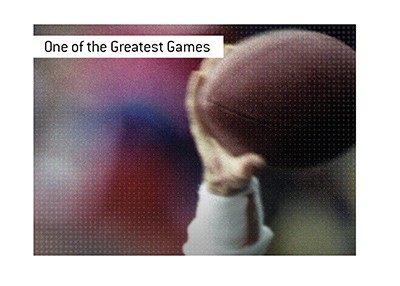 On February 24th, 1985, the Houston Gamblers, led by Jim Kelly, squared off against Steve Young and the Los Angeles Express in a USFL game.
Sports Illustrated would later call it the "Greatest Game That No One Saw".
-
The game has been called one of the greatest in football history.
Jim Kelly, who had decided not to play in the NFL due to a dislike of cold weather (he was drafted by Buffalo), led the Houston Gamblers, while Steve Young, who would eventually have a Hall of Fame career in the NFL, led the Los Angeles Express.
ABC owned the TV rights for the USFL, and they elected to air Doug Flutie's debut instead of the game between the Gamblers and Express.
Little did they know the mistake that they were about to make.
-
The Los Angeles Express were destroying the Gamblers 33-13 with just 10 minutes left in the game.
Jim Kelly would connect with Richard Johnson, narrowing the score to 33-20.
After making a successful defensive stand, the Gamblers got the ball back with 4:05 left in the game.
Kelly struck again, tossing a 20-yard touchdown pass to Vince Courville to make it 33-27.
After forcing the Express to punt again, the Gamblers marched 84 yards in 40 seconds to take the lead. Kelly would throw his fifth touchdown pass of the game, connecting with Ricky Sanders for the game-clinching touchdown.
-
The only people that saw the game were the 18,000+ in attendance in Los Angeles, as well as the people who were working the game.
The game was a fantastic advertisement for the USFL, but ABC had decided to air another game instead.
-
Jim Kelly's stat line in the game was absolutely ridiculous, as he threw for 574 yards and 5 touchdowns.
This was the second highest total in professional football history, as a CFL player passed for 586 yards roughly 30 years prior to that.
When the USFL folded, Jim Kelly and Steve Young would both make their ways to the NFL, where they would both enjoy Hall of Fame careers.