Georges St. Pierre "Bet on Himself" Prior to UFC 87 Fight Against Jon Fitch
Published on September 5th, 2022 1:59 am EST
Written By:
Dave Manuel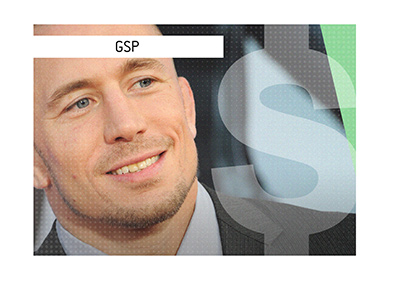 There is likely only one fighter in UFC history that has made more money in the Octagon than Georges St. Pierre, and that is Conor McGregor.
GSP likely made more money inside of the Octagon than even Brock Lesnar, who was one of the biggest draws in the history of the sport.
Georges St. Pierre and Dana White never seemed to have the best relationship, and Dana's true feelings about GSP certainly seemed to be on display for everybody to see after St. Pierre's victory over Johny Hendricks at UFC 167.
In the end, the icy relationship between GSP and Dana White was almost certainly the result of St. Pierre's contract and his ability to play hardball with the UFC.
GSP's tough stance with the UFC during negotiations made him many tens of millions of dollars over the course of his career, and it allowed him to retire comfortably.
-
After regaining his Welterweight title from Matt Serra at UFC 83 in April of 2008, Georges St. Pierre and his management team knew that he was in a very strong bargaining position.
St. Pierre was a rising star in the MMA world and immensely popular in his home country of Canada. The UFC was desperate for new stars, and GSP offered everything that the promotion could possibly want.
Unfortunately for the UFC, Georges St. Pierre had just one fight left on his contract heading into UFC 87 in August of 2008.
St. Pierre and his team announced to the UFC that UFC 87 would be his last fight with the promotion.
At the time, the UFC didn't have their "champions clause", and GSP was about to walk out the door into the willing arms of a number of different promotions.
GSP was fighting Jon Fitch on August 9th, 2008 in the main event of UFC 87.
The UFC scrambled and came back to GSP with an offer that he couldn't refuse.
The UFC offered a new deal that included $400,000 in base salary, as well as a cut of the PPV AND a cut of the gate.
This was an unprecedented deal, and it went to show just how much the UFC valued Georges St. Pierre.
The first card under this new contract for St. Pierre was UFC 94, which was his fight against BJ Penn.
In addition to collecting base pay of $400,000, GSP got a cut of the PPV AND a cut of the gate.
GSP says that he was making "many millions of dollars per fight", while the world thought he was just making $400,000.
-
Over the course of the following years, GSP would be involved in some massive cards - UFC 100, UFC 129 (Rogers Centre), UFC 154 (Condit in Montreal), UFC 158 (Nick Diaz in Montreal), UFC 217 (Michael Bisping).
During this time, GSP was one of the promotion's biggest PPV draws, and he was absolutely killing it.
At UFC 129, the total gate for the event was $12 million, and GSP got a nice cut of that money, in addition to his base salary and PPV cut.
In his very last fight against Michael Bisping, St. Pierre claimed he made about $10 million.
And, on top of all that, St. Pierre was making significant money from sponsorships before the UFC changed their rules on fighter sponsorships.
-
With all of the big cards/fights that GSP took part in over the course of his career, he almost certainly cleared well north of $50 million when all is said and done, and that doesn't include the money earned from his various business ventures.
St. Pierre knew his value, bet on himself and was handsomely rewarded, which is likely why Dana White never seemed to like him too much.