Here Is The Reason Why Owners Hate Fully Guaranteed Contracts
Published on February 23rd, 2023 8:39 pm EST
Written By:
Dave Manuel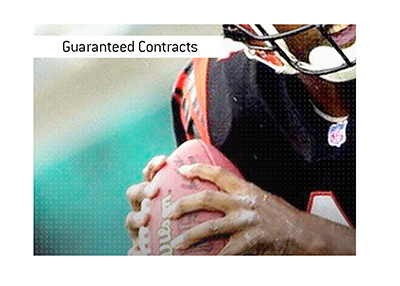 Page 178 of the current NFL Collective Bargaining Agreement (CBA) includes a section titled "Funding of Deferred and Guaranteed Contracts".
This section is almost certainly the reason why the Baltimore Ravens have hesitated to sign their franchise quarterback, Lamar Jackson, to a new deal.
Lamar Jackson wants a deal similar to Deshaun Watson, who received a FULLY guaranteed deal from the Cleveland Browns last year.
-
Guaranteed contracts in the NFL aren't just a solemn promise to pay out the deals.
Instead, the owner of the team that inks the deal must deposit a SIGNIFICANT amount of money into an escrow account.
The amount that must be deposited is figured out by calculating the "present value" of the guaranteed portion of the deal using the Discount Rate. Then, from this amount, $15 million (the NFL calls this the "deductible") is subtracted.
The owner must cut a check for this amount and send it to a segregated account, where it can NOT be touched.
So, in the case of Deshaun Watson's contract, Jimmy Haslam will need to send a $170 million check to an escrow account by March 31st, 2023.
-
The "funding rule" is an old one that came about in the days before the NFL was a prosperous, money-making machine.
Want to sign a player to a fully guaranteed or partially guaranteed money deal? That's fine, but you'll need to show the league and its players that you are good for it.
The "funding rule" still exists to this day, and it is causing headaches for some owners.
-
When Deshaun Watson signed his fully guaranteed deal, shockwaves were sent across the league, especially amongst the NFL's "lower net worth" owners.
There are some very rich owners that would have NO problem cutting a big check for a blockbuster NFL deal. David Tepper, Jody Allen and Stan Kroenke are just a few of the owners that would have no problem cutting an escrow check for over $100 million.
What about Mike Brown, the owner of the Cincinnati Bengals? Mike Brown, according to online reports, is the "poorest" NFL owner, as he currently has a net worth of about $1 billion.
How would he feel about cutting an escrow check for $200 million if Joe Burrow also wanted a fully guaranteed contract?
Does Steve Bisciotti, the owner of the Baltimore Ravens, want to send $200 million to escrow to sign Lamar Jackson? Is this what's holding up the deal? It is almost certainly a big part of it, as you would have a hard time arguing that Jackson is NOT worth the money.
-
Does this provide an advantage for owners with big wallets? Absolutely. If they really want a player in free agency, for instance, they can offer a guaranteed contract and cut a check for escrow. An owner in a smaller market might not want to do this.
I'm sure that this issue has come up in owner's meetings, but I'm not sure how anxious the richer owners would be to change the rules, as they will look to press any edge that they can find.