Two Freshmen Have Won The Prestigious Award
Published on December 12th, 2022 1:33 pm EST
Written By:
Dave Manuel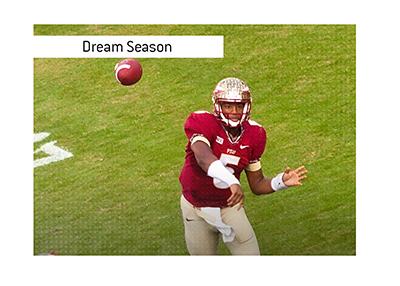 Over the history of the Heisman Trophy award, two players - both quarterbacks - have won the Heisman Trophy.
In both cases, the young men were:
1) Quarterbacks
2) Redshirt Freshmen
-
Johnny "Money" Manziel was the first freshman to ever win the award in 2012.
Manziel, playing for the Aggies, compiled 4,600 yards of total offense (3,419 yards passing, 1,181 yards rushing) while leading the Aggies Texas A&M to a 10-2 record.
Manziel would pass for 24 touchdowns while running for another 19.
Manziel's Heisman Trophy winning campaign was cemented in a game against Alabama, where he led his team to a 29-24 upset.
Manziel would do even better in 2013, throwing for 4,114 yards and rushing for 759 more, and would declare for the NFL draft after the season.
-
Jameis Winston would also win the Heisman Trophy as a redshirt freshman.
2013 was a dream season for Winston and Florida State, as the team would win the BCS title.
Winston would finish with 38 touchdowns, 3,820 yards and a pass efficiency rating of 190.04, which was one of the highest in history.
Winston would finish his career 26-1 as a starter before eventually declaring for the NFL draft following his sophomore year.
-
Manziel and Winston remain the only two freshmen to have ever won the Heisman Trophy award.
Both men were the top picks in their respective NFL Drafts, and both men underperformed expectations (especially Manziel, who fizzled out quickly).