Sportsbooks Generally Won't Let You Cash Out Free Bets Early
Published on September 23rd, 2021 11:29 am EST
Written By:
Dave Manuel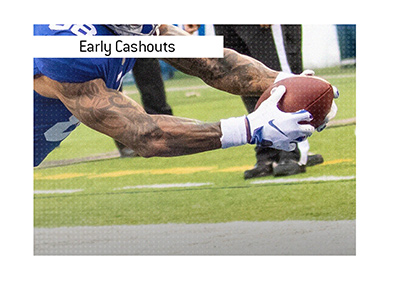 Earlier this week, an American gambler was one game away from winning a massive NFL parlay.
A $25 bet on a weekend of NFL action was on the verge of winning over $700,000.
All this bettor needed was for the Detroit Lions to pull off a road upset over Aaron Rodgers and the Packers and he'd be nearly a million dollars richer.
People on Twitter were imploring the bettor to take an early cashout.
The problem?
It eventually came out that this parlay was done with a $25 free bet.
Free bets are almost always unavailable for early cash outs.
Meaning if you do a big parlay using a free bet, you'd better be prepared to either hedge the bet or ride it out until the end.
-
There are a number of restrictions when it comes to free bets, and you should read through your favourite site's Terms and Conditions before placing that massive parlay using a free bet.
If you are making a bet with a free bet, make sure that you are prepared to ride the bet out until the end.
-
MGM, which is the sportsbook that accepted the $25 bet with a payout of over $700,000, ended up making an exception and cashing out their customer for a little over $120,000.
This was almost certainly due to the fact that the wager had received so much publicity, and they didn't want to look bad.
If you find yourself in the same position, don't expect the same sort of treatment.