Sports Betting Proponents Gain Powerful New Ally in Fox
Published on May 12th, 2019 1:14 pm EST
Written By:
Dave Manuel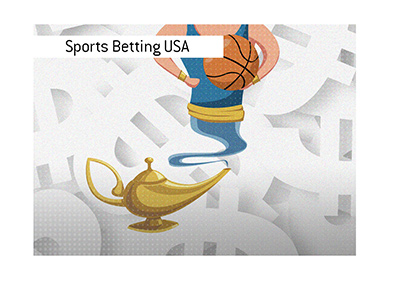 There are many who want sports betting (especially online sports betting) permanently banned in the United States, outside of Nevada.
In the past, opponents of legalized sports betting had powerful allies in the form of the major professional sports leagues in the United States. With leagues like the NFL and NBA opposed to sports betting (mainly due to integrity issues), there was virtually no chance of legalized sports betting becoming a reality in the country, unless you want to travel to Las Vegas (the brick-and-mortar casinos had no problem with legal sports betting in Nevada, as they were the ones profiting from it).
Things have changed, however, and one of the major catalysts was NBA Commissioner Adam Silver coming out in favour of legalized sports betting in the United States. It works in countries such as England, he said at the time, and legal sports betting would be amazing for all of the leagues, mainly due to the greatly increased interest from viewers if they were able to easily wager on the games.
One by one, the leagues fell into line, and when the Supreme Court struck down a nationwide ban against sports betting, the floodgates opened up. While there is still no federal sports betting bill, states are now able to decide if they want to offer legal sports betting to their residents.
Some states already offer legal sports betting (including New Jersey and Delaware), while others are in the process of passing legalization.
In short - legal sports betting will likely be available in almost all of the 50 states in the next 5-10 years. It's coming.
Fox Sports jumped on this trend by signing a deal with Pokerstars to launch a sports betting product called "Fox Bet".
This product will be available in all states where sports betting is currently legal.
Fox and Fox Sports have the rights to a number of different sports properties, including a selection of NFL games, Major League Baseball and more.
Fox Sports will be able to easily push their sports betting product to viewers, and this makes them an instant titan in the space in the United States.
Fox Sports is the first major network to launch their own sports betting product, and they are hoping that this will give them a first-mover advantage in a lucrative new market.
For sports betting proponents in the United States, the news means that they have a powerful new ally in their efforts to see sports betting legalized across the nation. Fox now has a financial stake in seeing sports betting flourish in the United States, and they will undoubtedly be spending millions of dollars lobbying to make this happen.
There are still opponents of legal sports betting in the United States (namely Sheldon Adelson), though he is being outnumbered with each passing day. The genie seems to be out of the bottle, and with each new partnership that is signed, widespread sports betting in the United States becomes closer to reality.