Antonio Brown Joins List of Athletes Who Quit Mid-Game
Published on January 2nd, 2021 1:18 pm EST
Written By:
Dave Manuel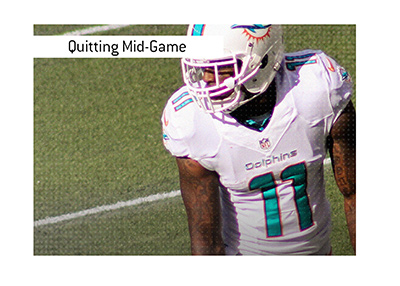 Earlier today, Antonio Brown of the Tampa Bay Buccaneers quit on his team in the middle of the game.
After being benched by the head coach, Brown removed his uniform and left the field, as the game was underway.
In quitting on his team in the middle of the game, AB joins a small but growing list of football players who have simply quit in the middle of a game.
Here are some of the most notable examples:
1. Mike Wallace
Mike Wallace of the Miami Dolphins, a wide receiver, was not happy with his playing team.
During a game against the New York Jets on December 28th, 2014, Wallace decided that he had had enough after not being targeted in the first half, and simply walked off the field with time remaining in the second quarter.
Wallace did not face the media after his outburst - instead, teammate Brandon Gibson was dispatched to answer questions on his behalf.
2. Vontae Davis
Vontae Davis, who was featured prominently on "Hard Knocks", signed with the Buffalo Bills during the 2018 offseason.
During the first half of a game against the Los Angeles Chargers on September 16th, 2018, Davis removed himself from the game during the first half of play and left the stadium.
Later, Davis would say that football was no longer what he was meant to be doing, and he would never play another down of professional football.
3. BJ Foster
During a 59-3 win over UTEP last year, Texas junior safety BJ Foster reportedly quit on his team during the third quarter of the game.
Foster, however, would reconcile with the team for the 2021 season, though he has entered the transfer portal, and his time with Texas is likely over.
4. K'Vaughan Pope
After getting waved off the field by a teammate, Ohio State linebacker K'Vaughn Pope quit the team, despite several staffers from the team trying to stop him.
Pope removed his gloves and threw them into the stands.
Pope was dismissed from the team for his on-field antics and entered the transfer portal.