US Market Continues To Embrace Football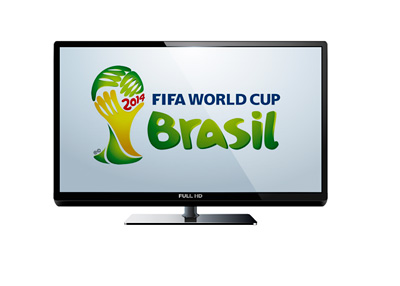 European markets have seen their TV ratings for the 2014 World Cup tick down from 2010, mainly due to the late start times, thanks to the tournament taking place in Brazil. The Italy/England match, for instance, drew roughly 80% of the viewers that the game between England and the United States in the 2010 World Cup drew in the UK market.
The ratings in the United States, however, are setting records.
According to ESPN, the game between Italy and the England was the most-watched non-US Group Stage World Cup game ever, with an average of 4.615 million viewers tuning in. Prior to that, the match between Brazil and Croatia in the first game of the tournament had set the record.
The ratings should continue to be very strong on Monday, as Germany battled Portugal and Ghana took on the United States.
Univision, which serves the Spanish speaking market in the United States, is reporting that their World Cup audience is up 25% through the first eight matches of the tournament. This is not entirely surprising given the marquee match between Holland and Spain that took place a few days ago.
-
The United States is slowly warming to the game of soccer, as evidenced by the strong TV ratings for the World Cup and the continued success of Major League Soccer (MLS). MLS continues to expand (New York and Miami are set to get new franchises soon) and the league continues to enjoy strong attendance and interest. Look no further than Seattle for evidence of soccer's surging interest in the United States.
Americans have remained largely resistant to the "beautiful game" in the past, but things seem to be turning around. The United States has a solid team in this World Cup, and a deep run for the American squad would likely do wonders for soccer interest in the United States.
Source: Deadline.com -
World Cup Ratings: England v Italy Gives ESPN Most-Watched Non-US Group Match; BBC One Scores 11.5M Viewers