Game Preview: Slovakia vs. Bosnia-Herzegovina - World Cup Qualifiers - September 10th, 2013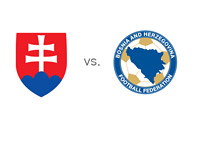 Slovakia are hosts to Bosnia-Herzegovina in the eighth round of World Cup qualifiers in Group G on Tuesday, September 10th at the Pod Dubnom stadium in Zilina.
Just a few days ago, on Friday, Slovakia handed Bosnia-Herzegovina their first defeat in qualifications, in front of a capacity crowd in Zenica. The upcoming match in Slovakia is a big one for both nations. If Slovakia can repeat the feat and beat Bosnia-Herzegovina again, they will stay in the race to qualify for the World Cup in Brazil. With a win on Tuesday, Bosnia-Herzegovina would stay at the top of the group tables and go into their two final matches vs. Liechtenstein and Lithuania with a bit more comfort.
Can Bosnia-Herzegovina turn things around after a recent slump in form, or will Slovakia find a way to beat Edin Dzeko and company once again?
Let's take a look at the odds for the upcoming game in Zilina:
Slovakia: 13/8
Draw: 11/5
Bosnia-Herzegovina: 17/10
This is going to be a very close match according to the odds. Slovakia are the slight favourites and a 100 € bet on the hosts could bring in 162 € in profit, while the same bet on Bosnia-Herzegovina could return 170 € in profit.
The most likely score, according to the odds is a 1-1 draw offered at 5/1 (bet 100 € for a chance to profit 500 €).
Edin Dzeko, who plays for the English Premier League side Manchester City, is the favourite to score for Bosnia-Herzegovina at 7/4 (bet 100 € for a chance to profit 175 €). Stanislav Sestak, who plays for the Turkish club Bursaspor, is the favourite to score for Slovakia at 15/8 (bet 100 € for a chance to profit 187 €).
The kick-off is at 20:15 local time.
This should be a good game!