Europe, South America Even Odds To Win The World Cup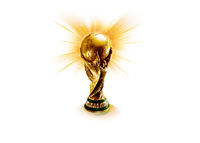 The World Cup has now been running for a little over a week, with each team seeing at least one game of action so far.
There have been some shocks so far (Spain being eliminated after two games, Uruguay losing to Costa Rica), some big surprises (England on the brink of being eliminated) and some mild surprises (the strong play of Chile). There have been numerous come-from-behind victories and a minimum of boring games.
In short, the 2014 World Cup has surpassed expectations so far.
-
"Winning Continent"
Here are the current "winning continent" odds:
Europe, 1.90
South America, 1.90
Rest of World, 51.00
As you can see, Europe and South America are in a dead heat.
Europe has a number of very strong teams, led by Germany and the Netherlands, while France, Italy and Belgium hold the possibility of surprising and making a big run.
South America, on the other hand, has the two current favourites to win the tournament on their side - Brazil and Argentina. In addition, Chile has surpassed expectations so far, while Columbia could potentially make a run as well.
The "rest of the world", on the other hand, has a remote chance of winning the tournament, as they are represented by teams such as Ghana, Russia, the United States and Japan. It is hard to imagine any of those teams pushing somebody like Germany or Brazil to the brink.
-
Which continent do you think will win the 2014 World Cup?