Big Games Across Europe This Weekend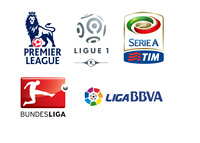 It is a fairly slow weekend in Europe as far as big matchups go; nevertheless, there are a few games to be stoked about.
Our personal favourite is the Sunday English Premier League battle between the struggling Spurs and the current champions, Manchester United.
If you are interested in what is going on in the Turkish Super Lig, first place Fenerbahce are hosting third place Besiktas on Saturday.
Here are a few more games to keep an eye on this weekend:
Saturday, November 30th, 2013
Fenerbahce vs. Besiktas - TSL
Sunday, December 1st, 2013
Tottenham Hotspur vs. Manchester United - EPL
Chelsea vs. Southampton - EPL
PSG vs. Lyon - Ligue 1
Monday, December 2nd, 2013
Lazio vs. Napoli - Serie A
The English Premier League will be played midweek as well. Man Utd is facing Everton on Wednesday etc.
Enjoy the games!