Wayne Rooney Probably Moving to Chelsea FC According to the Odds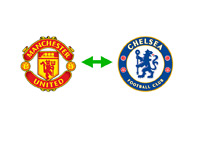 According to the odds posted at skyBET, Wayne Rooney will probably leave Manchester United this summer. Chelsea FC look like the most likely destination for the England international.
Wayne Rooney has not been featured regularly on the Manchester United squad in the past year and he has been eyeing a move to a club where he can get first-team football.
Jose Mourinho, coach of Chelsea FC, has been full of praise for the forward and has promised him a spot in the first eleven if he completes a move to Stamford Bridge. Chelsea have already submitted a formal bid for Rooney in the amount of £23 million + £2.5m in additional clauses, but the offer has been rejected. The reports are that Chelsea are planning to submit an improved bid in the near future and that Wayne Rooney himself is about to submit an official transfer request to Manchester United management.
The odds for Wayne Rooney to leave Manchester United before September 3rd, 2013 are 8/13, while the odds of him staying at Old Trafford are 6/5.
The odds for Wayne Rooney to sign for before September 3rd are:
Chelsea 4/7
Arsenal 4/1
Bayern Munich 10/1
PSG 16/1
Real Madrid 25/1
Barcelona 50/1
Manchester City 50/1
Everton 66/1
Tottenham 66/1
AS Monaco 80/1
So basically, a £100 bet on Wayne Rooney to sign for Chelsea could return £57 in profit, while the same bet on him to stay at Manchester United could return £120 in profit.
Wayne Rooney has been at Old Trafford since 2004.
Manchester United host Chelsea on August 26th in the English Premier League. Who will Wayne Rooney play for on that date?