Game Preview: Viktoria Plzen vs. Manchester City - UEFA Champions League - September 17th, 2013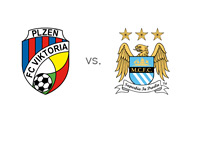 Viktoria Plzen are hosts to Manchester City in the first round of the UEFA Champions League (UCL) group stage in Group D on Tuesday, September 17th, 2013 at Struncovy Sady Stadion in Plzen, Czech Republic.
Plzen had to go through three rounds of qualifying to reach the UCL group stage. The Czech Republic team was dominant and they won all six matches, eliminating along the way Zeljeznicar, Kalju and Maribor. In their domestic league, they are at the top of the tables with six wins and two draws after eight games played.
Manchester City are going through a transition period under the new coach Manuel Pellegrini. So far in the English Premier League this season they have won two, drew one and tied one. In their last match, over the weekend, they drew 0-0 with Stoke City.
Let's take a look at the odds for the upcoming match in Plzen:
Plzen: 9/2
Draw: 3/1
Man City: 8/13
Manchester City are the favourites to win. A 100 € bet on the guests could return 61 € in profit. The same bet on Viktoria Plzen could return 450 € in profit.
The most likely scores, according to the odds, are 0-1 or 1-2 victories for Manchester City, both valued at 7/1.
Tomas Wagner is the favourite to score for the hosts at 9/4 (bet 100 € for a chance to profit 225 €), while Alvaro Negredo is the favourite to score for the guests at 10/11 (bet 100 € for a chance to profit 90 €).
Should be a good game.
Will Plzen continue their unbeaten run this season, or will they be stopped by powerful Manchester City?
Man City have a lot to prove this season, after making an early exit out of the competition last year.
Let's see how things play out in Plzen!