Copa del Rey - Quarterfinals - 2nd leg - Valencia vs. Real Madrid - Game Odds - January 23rd, 2013
Valencia are hosts to Real Madrid in the Spanish Copa del Rey quarter-final 2nd leg match at the Mestalla Stadium in Valencia on January 23rd, 2013.
At Santiago Bernabeu in Madrid on January 15th, Real Madrid won the 1st leg with the score of 2-0. A few days later in the La Liga (Spanish League), Real Madrid beat Valencia in Valencia with the score of 0-5 with all five goals scored in the 1st half, four of which were scored within 14 minutes.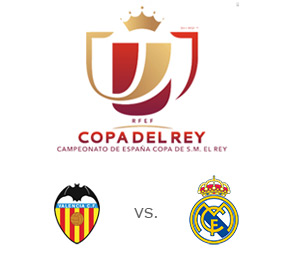 these are the game odds for the upcoming Copa del Rey match at the time of writing this article:
Valencia 7/2
Draw 16/5
Real Madrid 4/6
Odds for Valencia to Qualify 25/1
Odds for Real Madrid to Qualify 1/100
The odds are heavily in favour of Real Madrid. A $100 bet on Real Madrid to qualify to the semi-finals yields only $1 in profit.
Real Madrid already have a 2-0 cushion from the first match and they destroyed Valencia again in the league. Real Madrid are a very talented team, one of the best in Europe this year and one of the favourites to win the UEFA Champions League. They are a very emotional team. They play well when they are motivated to do so. In the UEFA Champions League this season they have played solid football while in the Spanish League not so much. They won the Spanish League last year and this year they are after the big trophy (UEFA Champions League). Part of the reason why Real went all out in the league game against Valencia is because their archrival Barcelona lost their first league game of the season the day before and Real decided to show off. That is just how Real Madrid rolls this year.
Do they have enough will power to beat Valencia for the 3rd time? They have a 2-0 cushion and they know it would take a miracle for Valencia to beat them 3-0 or 4-1 on Wednesday and go through. This could very well be a tie game here.
One other thing to consider is that Valencia have nothing to lose in the upcoming match. They are trailing and they were embarrassed in the last league match. They just might show their teeth here.
Lets look at some recent scores for both Real Madrid and Valencia.
In the La Liga Real Madrid lost to Malaga 3-2 on December 22nd, then beat Real Sociedad at home 4-3 on January 6th and then tied Osasuna 0-0 on January 12th. Not exactly the most impressive performances.
Valencia beat Getafe 4-2 on December 21st, then they won vs. Granada 1-2 on January 5th and then they beat Sevilla 2-0 at home on January 12th.
Both Valencia and Real Madrid are through to the knockout stage of the UEFA Champions League. Valencia came 2nd out of Group F behind Bayern Munchen and ahead of FC Bate and LOSC Lille while Real Madrid came 2nd in Group D behind Borussia Dortmund and ahead of Ajax and Manchester City.
These are two very strong teams but the star studded Real Madrid is stronger. The home win of 2-0 is a big enough to ensure that 'Los Blancos' go through to the Copa del Rey semi-finals to face the winner of
Malaga vs. Barcelona matchup
, but this does not mean they are winning this next match in Valencia.
At the beginning of the season on August 19th, 2013 Real Madrid hosted Valencia and the score in that game was 1-1.