Upcoming Football Games in the Last Week of September, 2013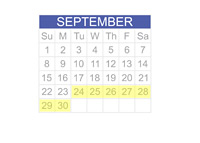 Here are some of the higher profile games that are scheduled to take place in the last week of September.
Looks like a pretty quiet week in Euro football.
Tue, Sept 24th, 2013
Aston Villa vs. Tottenham - Capital One Cup
Barcelona vs. Real Sociedad - La Liga
Wed, Sept 25th, 2013,
Manchester United vs. Liverpool - Capital One Cup
Thursday, Sept 26th, 2013
Inter vs. Fiorentina - Serie A
Sat, Sept 28th, 2013
Tottenham vs. Chelsea - EPL
Real Madrid vs. Atletico Madrid - La Liga
Swansea vs. Arsenal - EPL
A lot more action is coming our way in October, including the UEFA Champions League and the FIFA World Cup qualifiers.