Game Preview: Ukraine vs. England - World Cup Qualifying - September 10th, 2013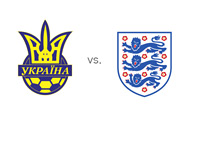 Ukraine and England meet in the eighth round of qualifying in Group H on September 10th, 2013 at the Olympc Stadium in Kyiv. WIth only three matches left to play in the group for both teams, this is a big one.
England, Ukraine, Montenegro and Poland are all in contention to finish first in Group H and directly qualify for Brazil. After seven matches played, England are in first place with 15 points, while Ukraine are in third place with 14 points. Between them is Montenegro with 15 points (and an extra game played), and Poland are in fourth place with 10 points. At the bottom of the group are Moldova with 5 points and San Marino with zero points.
Let's take a look at the odds for the upcoming match in Kyiv:
Ukraine: 7/4
Draw: 11/5
England: 13/8
This is going to be a tight match according to the odds. England are the slight favourites to win. A 100 £ on Roy Hodgson's side could bring in 162 £ in profit, while the same bet on Ukraine could bring in 175 £ in profit.
The most likely score, according to the odds, is a 1-1 draw offered at 5/1 (bet 100 £ for a chance to profit 500 £).
Yevhen Seleznyov, who currently plays for FC Dnipro Dnipropetrovsk, is the favourite to score for Ukraine at 2/1 (bet 100 £ for a chance to profit 100 £), while Rickie Lambert, who plays for the English Premier League side Southampton, is the favourite to score for England at 11/5 (bet 100 £ for a chance to profit 220 £).
Ukraine most recently beat San Marino 9-0 on Friday, while England took care of Moldova with the score of 4-0. When England hosted Ukraine in Group H last September in London, the score was a 1-1 draw.
England will be without Wayne Rooney and Daniel Sturridge due to injuries, and Danny Welback due to a suspension.
If you are going to watch one World Cup qualifying game this coming Tuesday, this is probably the one.
Enjoy the match!