Tottenham Hotspur vs. Manchester United - 23rd round of the Barclay's Premier League
The two hottest Premier League teams at the moment, Tottenham Hotspur and Manchester United, are meeting in the 23rd round of the Barclay's Premier League at the White Hart Lane in London on Sunday 20th of January 2013 at 08:00 UK time. This is the most anticipated match in European soccer this week.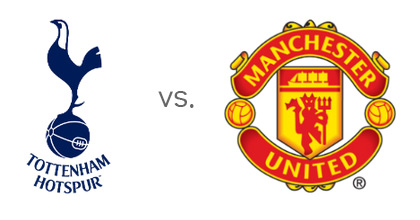 Tottenham are in great form. Out of their last 9 Premier League games they won 6 and tied 3. They are currently in 4th place with 40 points after 22 matches.
Most recently, Tottenham tied QPR 0-0 in the league after beating Coventry 3-0 at home in the FA Cup. On the 1st of January Tottenham beat Reading 3-1 at home in the league.
Top scorers for Tottenham in this Premier League season are Jermain Defoe with 10 goals and Gareth Bale with 9 goals.
Manchester United are in top form as well right now. Out of their last 10 Premier League matches they won 8 and tied 2. Most recently they beat West Ham 1-0 in the FA Cup at home after beating Liverpool 2-1 at home and playing 2-2 vs. West Ham in the league. Manchester United are in 1st place after 22 matches with 55 points, 7 points clear from 2nd place Manchester City.
Top scorers for Manchester United in the league are Robin Van Persie with 17 goals, Javier Hernandez with 8 and Wayne Rooney with 7 goals.
Last time Tottenham hosted Man Utd in March of 2012 in the Premier League the score was 1-3 for Man Utd. Wayne Rooney scored in the 45th minute followed by 2 goals by Ashley Young (60th and 69th minute). Jermain Defoe scored for Tottenham in the 87th minute to make the scoreline 1-3. Out of the last 5 meetings at the White Hart Lane Manchester United won 2 and the two teams tied 3 times.
Will this time be different? Can the Hotspurs under new manager Andre Villas-Boas make a statement vs. the number one team on the island.
The odds are slightly in favour of Manchester United to win this game.
Tottenham: 15/8
Draw: 5/2
Man Utd: 7/5
The match officials appointed for this game are: Referee: C Foy; Assistants: S Beck, M McDonough; Fourth official: L Mason.
This should be a great match.
Notes:
The Brazil international Sandro has been ruled out for the rest of the season for Tottenham after suffering a knee injury in the game vs. QPR last week and Emmanuel Adebayor is away at the African Nations Cup.