English Premier League - Tottenham Hotspur vs. Manchester City - April 21st, 2013 - Odds and Preview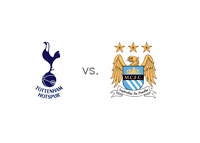 On Sunday, April 21st, 2013 at 1:30pm local time, Tottenham Hotspur are hosts to Manchester City in the 33rd round of the English Premier League at White Hart Lane in London.
Last time these two teams met at White Hart Lane in August of 2011 the score was 1-5 for Man City. Earlier this season, in November 2012, Manchester City beat Tottenham 2-1 at home.
Tottenham are in 5th place at the moment with 58 points and are fighting hard with Chelsea, Arsenal and Everton for two remaining spots that lead to the UEFA Champions League next season. Most recently, on April 11th, Tottenham were eliminated out of the UEFA Europa League by FC Basel via penalty shootouts after drawing 2-2. In their latest EPL match, on April 7th, they tied Everton 2-2 at home.
Manchester City have 68 points with six matches remaining in the season and are in second place, 13 points (and a game less) behind Manchester United and 7 points ahead of 3rd place Chelsea. Manchester United have practically secured a spot in the UEFA Champions League next season. Most recently they beat Wigan 1-0 in the league, eliminated Chelsea 2-1 in the FA Cup and beat Manchester United in the league at Old Trafford 1-2.
Both clubs are in fine form at the moment but Manchester City are the favourites to win.
Tottenham 21/10
Draw 5/2
Manchester City 5/4
A $100 bet on Tottenham returns $310 ($210 in profit) while the same bet on Manchester City returns $225 ($125 in profit).
Sergio Aguero 8/5, Carlos Tevez 7/4 and Edin Dzeko 15/8 are the favourites to score for the guests while Emmanuel Adebayor 15/8 and Clint Dempsey 13/5 are the favourites to score for the hosts.
With a win, Tottenham would climb over Arsenal to 4th place in the league with 5 matches to go, while not much changes for City win or lose, they stay in 2nd place.
Tottenham are well rested after 10 days off following their defeat in Basel. They are out of the UEFA Europa League and the only thing to focus on is the English Premier League. Can they come out and set the tone for the remainder of the season by beating the mighty Manchester City?
This should be a great match.