Tottenham vs. Lyon - Game Odds - UEFA Europa League - Round of 32 - First Leg
Update: Final Score -
Tottenham vs. Lyon 2-1
--
On Thursday February 14th, 2013 at White Hart Lane in London, Tottenham Hotspur host Lyon in the first leg of round of 32 in the UEFA Europa League.
Both Tottenham and Lyon came out undefeated from the Group stage. Tottetnham came 2nd in Group J behind Lazio and ahead of Panathinaikos and Maribor while Lyon came first out of Group I ahead of Sparta, Athletic and Hapoel.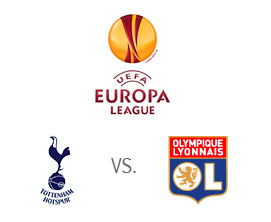 Tottenham are in great form in the English Premier League this season. They are in 4th place after 24 matches and undefeated in the last 10. Most recently Tottenham beat Newcastle 2-1 at home after beating West Brom 0-1 away.
Lyon are in 2nd place in the French Ligue 1 at the moment, 6 points behind Paris Saint-Germain. Lyon surprisingly lost their last two games vs. AC Ajaccio 3-1 and vs Lille at home 1-3.
Tottenham 4/5
Draw 5/2
Lyon 7/2
This means that a successful $100 bet on Tottenham would yield a total of $161 while the same bet on Lyon would yield $450.
Tottenham are favourites to win the first leg match at home. The Spurs have only lost twice so far at White Hart Lane in all competitions this season.
Interesting fact about the upcoming match is that Tottenham's goalie Hugo Lloris will be playing against his old club for the first time since moving to London. The France No1 left last summer after spending 4 seasons with Lyon.
Tottenham striker Jermain Defoe is forced to miss the upcoming match due to an ankle injury, but luckily for Tottenham, Emmanuel Adebayor is back from the African Cup of Nations campaign and he will take his spot. Spurs star player Gareth Bale is having an outstanding season and he will be a player to watch on Thursday.
Will Lyon be able to return to form after two consecutive Ligue 1 losses?
This should be a great match.