Messi Most Likely to Score for Barca, Claudio Pizarro and Mario Gomez Favourites to Score for Bayern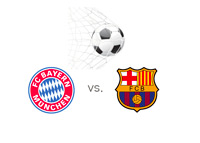 With the first leg of the UCL (UEFA Champions League) between Bayern Munich and Barcelona fast approaching,
Lionel Messi is fit to play for Barcelona and most likely to score on Tuesday at 1/1 (bet $100 to profit $100). Messi has scored 8 goals so far in the UCL and is the second leading scorer behind Cristiano Ronaldo of Real Madrid who has scored 11 times so far. Lionel Messi has scored 43 times in the Spanish La Liga this season in 29 matches. Amazing!
In the absence of Bayern's leading striker Mario Mandzukic due to a suspension, Claudio Pizarro and Mario Gomez have the highest odds of scoring for the Reds at 8/5 (bet $100 to profit $160). Arjen Robben and Thomas Muller are next in line at 15/8 (bet $100 to profit $187) while David Villa of Barcelona and Franck Ribery of Bayern are at 21/10 (bet $100 to profit $210).
It should be noted that Mario Gomez is regaining his form at Bayern and has scored 5 goals in his last two games for the Bavarian club.
Down the list we have, Francesc Fabregas at 9/4 (bet $100 to profit $225) and Cristian Tello, Rodriguez Pedro and Xherdan Shaqiri all at 12/5 (bet $100 to profit $240).
Both Bayern and Barcelona are offensive sides which could create a lot of work for Manuel Neuer and Victor Valdes, the two of the best keepers in the business.
This should be an amazing game!