Top 25 Football Clubs Ranked by Player Market Value at Start of 2016/17 Season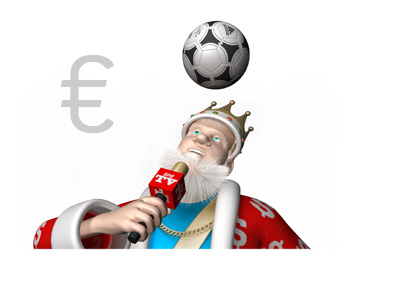 Now that the transfer season is over and the players who changed clubs this summer are settling in their new surroundings, it is a perhaps a good time to take a look at the updated player market values of Europe's biggest clubs.
Here are the top 25 European football clubs, ranked by total player value at the start of the 2016/17 season (after the closing of the summer transfer market).
1. Real Madrid - La Liga - €769,30m
2. FC Barcelona - La Liga - €756,50m
3. Bayern Munich - Bundesliga - €582,23m
4. Manchester United - EPL - €534,25m
5. Manchester City - EPL €518,00m
6. Chelsea FC - EPL - €509,80m
7. Atletico Madrid - La Liga - €493,00m
8. Arsenal FC - EPL - €468,50m
9. Juventus FC - Serie A - €428,00m
10. Paris Saint-Germain - Ligue 1 - €412,65m
11. Liverpool FC - EPL - €387,20m
12. Tottenham Hotspur - EPL - €370,50m
13. Borussia Dortmund - Bundesliga - €339,50m
14. Inter Milan - Serie A - €331,58m
15. SSC Napoli - Serie A - €295,88m
16. AS Roma - Serie A - €276,30m
17. Bayer 04 Leverkusen - Bundesliga - €253,80m
18. West Ham United - EPL - €241,50m
19. Everton FC - EPL - €239,25m
20. FC Schalke 04 - Bundesliga €212,18m
21. Leicester City - EPL - €210,50m
22. AC Milan - Serie A - €205,60m
23. Sevilla FC - La Liga - €205,00m
24. Southampton FC - EPL - €199,00m
25. Valencia CF - La Liga €195,55m
--
The Spanish juggernauts Real Madrid and Barcelona sit comfortably at the top of the list of most valuable football clubs when it comes to player market value.
While the financial climate in European football is changing, and the English Premier League clubs are dominating in the transfer markets, the greatest stars still seem to prefer to play their football in Spain. At least they have been up to this point in time. Maybe it is the warmer weather, style of play or the passion of the fans. Maybe it is the lifestyle and true superstar status attainable to a few. Whatever the case is, the world's greatest, such as Lionel Messi, Cristiano Ronaldo, Luis Suarez, Neymar Jr. and Gareth Bale, all play in the Spanish La Liga.
The top team on the list, Real Madrid, have had, more or less, the same team core the last few seasons. Ronaldo's market value is slowly decreasing due to his age (he is 31), but there is an abundance of young players, including Isco, Gareth Bale, James Rodriguez and Alvaro Morata, who are just entering their prime.
The market value of Leicester City players has increased considerably following their impressive win of the English Premier League title last season. They are ranked 21st at this point in time.
It is good to see Atletico Madrid in the 8th spot. The club has seen a tremendous rise in the last few years under the leadership of ex-player Diego Simeone.
--
A few player valuations are included below.
Lionel Messi - €120m
Cristiano Ronaldo - €110m
Junior Neymar - €100m
Luis Suarez - €90m
Gareth Bale - €90m,
Thomas Muller - €75m
Robert Lewandowski €75m
James Rodriguez €70m
Paul Pogba €70m
Gonzalo Higuain €65m
Kevin De Bruyne €60m
Sergio Aguero €60m
--
Source:
Transfermarkt