Football World's Ten Most Valuable Players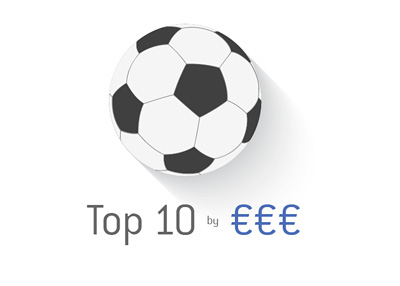 Here are the ten most valuable football players in the world, according to Transfermarkt.co.uk:
Lionel Messi - 105.60 million Euros
Cristiano Ronaldo - 105.60 million Euros
Gareth Bale - 70.40 million Euros
Neymar, Jr. - 61.60 million Euros
Angel Di Maria - 57.20 million Euros
James Rodrigues - 52.80 million Euros
Luis Suarez - 52.80 million Euros
Edison Cavani - 52.80 million Euros
Radamel Falcao - 48.40 million Euros
Luka Modric - 48.40 million Euros
It's the usual suspects in the top two of the most valuable football players of the planet. There's little to choose from among the two, although Cristiano Ronaldo could feel a let little let down for not being ahead of his mercurial Barcelona rival. In the current season, Ronaldo has scored 25 La Liga goals compared to 15 of Messi's from 2 less appearances, 14 vs 16 respectively. In all competitions this year, the Real Madrid star has 32 goals from 25 matches compared to Lionel Messi's 23 form 22 appearances. On the other hand, Lionel Messi is 2+ years younger than Cristiano Ronaldo.
The list apparently is heavily laden with the top two La Liga clubs accounting for seven of the ten. Four are from Real Madrid alone and it could have been five had Di Maria not moved over to Manchester United.
Gareth Bale at third place seems still overrated and the hangover of his monster €100 million transfer to Real Madrid for Tottenham in September 2013 still persists. Critics felt that the Spanish giants overpaid him by €30 million. Although he has been partly instrumental in Real's phenomenal run, many feel he has been a less of an influence at Los Blancos than Karim Benzema, a vastly improved player and the perfect foil for Christiano Ronaldo. He is La Liga's fifth highest scorer having found the net 8 times from 14 appearances. Shockingly, the Frenchman is placed at a lowly 23 in the transfer market rankings.
The 23-year old Colombian wonder boy James Rodrigues probably finds his place in the top ten by virtue of his colossal €80 million signing with Real in July this year. The striker's performance of 5 goals from 14 matches for his club so far is no great shakes.
But, Real Madrid's phenomenal run this year has had its effect with the market values of many of its players rising significantly. Ronaldo's value has shot up to €120 million now from €100 million, Rodrigues from €35 million to €60 million currently. Luka Modric has sneaked into the top ten by virtue of an enhanced market value of €48 million. Bale's market value is considered steady at this moment.
Colombian striker Radamel Falcao seems to enjoy unjustifiably high market ratings. He is a far cry from his heydays at Atletico Madrid from 2011 -2013 where he got as many as 52 goals from 68 games. His season of 2013 with AS Monaco, France, saw him get 11 from 20 matches. On loan to Manchester United now for the 2014-15 EPL season, he's been a no-show finding the back of the net just twice from 10 outings for the club. At a national level, he has been over-shadowed by compatriot James Rodrigues.
The eighth-most valuable player, Edinson Cavani's progression at Paris Saint-Germain also indicates a downward trajectory, performance-wise. His 23 goals for the French champions from 45 outings are nothing compared to the prolific 78 he got from 104 games during his three-year stint with Napoli.
No Germans in the list of the 10 most valuable although the likes of Thomas Muller, Marco Reus, Mario Gotze, Mesut Ozil and Toni Kroos crowd the ranks from 11 to 20. Winning the World Cup apparently didn't count for much in the lucrative transfer market.
In short, La Liga, especially its two major protagonists, dominate the European football transfer market now. The flavor of the season is distinctly Latin.