Jose Manuel Pinto in the Spotlight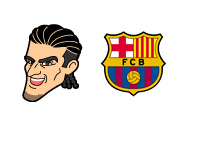 With Victor Valdes sidelined for eight months with a torn ACL, it is time for Jose Manuel Pinto to step up and come out big for Barcelona FC.
There are eight games left in the Spanish La Liga season and Barcelona pretty much have to win them all in order to defend the title. Barca are in the quarter-finals of the UEFA Champions League and in the final of Copa del Rey as well. The loss of their prize asset, one of the finest goalkeepers in the world, Victor Valdes, came at a time when they need him the most.
Jose Manuel Pinto has always been the backup goalie at Barca since arriving in 2008 from Celta, where he kicked ass and won the Ricardo Zamora Trophy in 2005/06. We've had the pleasure of watching Pinto (38) playing for Barcelona in domestic cup games over the years.
But now, this is the real deal! It is the crucial part of the season. After drawing with Atletico Madrid three times already, Barcelona are facing them again in the quarter finals of the UCL and in the potentially vital last game of the league season.
The team will need Pinto to be 1000% over the next two months!
--
Here is Pinto in action:
--
Illustration:
Guapo BG