Game Preview: Sweden vs. Portugal - World Cup Qualifications Playoff - 19/11/2013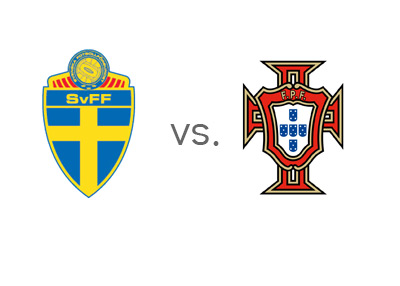 The most publicized of the four European World Cup qualifications playoff matches, is the one between Sweden and Portugal. The score in Lisbon on Friday, in the first leg, was 1-0 and the game now moves to the Friends Arena in Solna.
On Tuesday, November 19th, 2013 we will find out which one of these two nations will go to Brazil. The referee will be England's Howard Webb. The kick-off is at 20:45. The stage is set for Cristiano Ronaldo and Zlatan Ibrahimovic to meet again.
Sweden are a team that can score goals. They scored seven against Germany over two qualifying rounds in Group C for example. Zlatan Ibrahimovic is in his prime and is playing the best football of his life. Sweden were somewhat quiet in Lisbon, but they have the potential to roar at home.
Portugal were on and off in Group F during the qualifications. They are stronger than Sweden on paper, but will need to prove that on Tuesday when they try and defend the hard earned lead from match one. Cristiano Ronaldo is on a tear this year and will use all his powers to try and take his nation to the World Cup.
The odds for Tuesday are:
Sweden: 17/10
Draw: 9/4
Portugal: 33/20
To Qualify
Sweden: 11/4
Portugal: 2/7
The odds are more or less even for the Tuesday's match. Portugal are actually the favourites, by a minimal margin. A 100 € bet on Ronaldo, Pepe, Coentrao & Co. could return 165 € in profit, while the same bet on Sweden could return 170 € in profit.
The odds to qualify also favour the guests. A 100 € bet on Portugal to book their tickets to Brazil could return 28 € in profit, while the same bet on Zlatan & Co. could return 275 € in profit.
The most likely score, according to the odds, is a 1-1 draw, offered at 5/1.
Ronaldo and Ibrahimovic are the favourites to score at 7/5 each.
Sweden are labeled as a one man show, but will need a huge team performance if they are to stand a chance to qualify. Portugal will have to battle just as hard.
The non-biased fans are hoping for an open game.
Let's see how things play out!