The Upcoming Pre-Season Friendly Games in July of 2013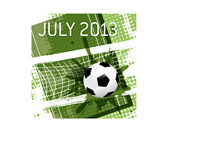 The preparations for the 2013/14 football season are well under way; from this week forward, there will be several high profile friendly matches taking place across various summer tournaments.
Here is a list of the bigger pre-season games in the period between July 24th and August 1st, 2013:
July 24th, 2013
FC Bayern vs. Barcelona - Uli Hoeness Cup
2-0
Lyon vs. Real Madrid 2-2
July 27th, 2013
Valencia vs. Milan -
International Champions Cup (ICC)
- Quarter-final
July 31st, 2013
Manchester City vs. Milan -
Audi Cup
Semi-final
Bayern Munich vs. Sao Paulo - Audi Cup Semi-final
Juventus vs. Everton - ICC - Quarter-final
August 1st, 2013
Audi Cup Final
Audi Cup Third place match
Chelsea vs. Inter - ICC - Quarter-final
LA Galaxy vs. Real Madrid - ICC - Quarter-final
The friendly matches above are a perfect introduction to the new football season, which starts in a few weeks' time. Hope you get to enjoy them!