Stoke Battle Tottenham on Sunday, May 12th, 2013 in the 37th Round of the English Premier League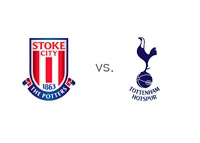 Stoke are hosts to Tottenham on Sunday, May 12th, 2013 at the Britannia Stadium in the 37th round of the English Premier League.
With two games to go in the season, Stoke are sitting in the middle of the table in 11th place, while 5th place Tottenham are still in a battle with Arsenal, who have one point more, for a top 4 finish that leads to the UEFA Champions League.
Stoke managed to get seven points out of their last three matches and escape the danger of relegation by beating QPR and Norwich and most recently drawing with Sunderland.
Tottenham most recently tied with Chelsea at Stamford Bridge, after beating Southampton and drawing with Wigan. The Spurs are undefeated in the last six English Premier League games.
Earlier in the season in December 2012, Tottenham and Stoke played 0-0 at White Hart Lane in London.
Stoke 7/2
Draw 13/5
Tottenham 10/11
The bookies are of the opinion that Tottenham are the big favourites in the upcoming match. A $100 bet on Stoke to win this contest earns $350 in profit, while the same bet on the guests returns $90 in profit.
The Spurs will go hard after a win on Sunday and hope that Arsenal slip on Tuesday against Wigan. Stoke, on the other hand, are relaxed and will try to give their guests a tough game.
Gareth Bale is most likely to score for Tottenham at 1/1 (bet $100 to profit $100), while Peter Crouch is the favourite to score for the home-side at 11/5 (bet $100 to profit $220).
Lets see if the Spurs can pull off a victory against Stoke and keep their dreams alive of going to the UEFA Champions League next season. In case the Spurs finish in fifth place, they will qualify for the less glamorous UEFA Europa League instead.