Some Tasty Matchups Coming up This Saturday - 21/11/2015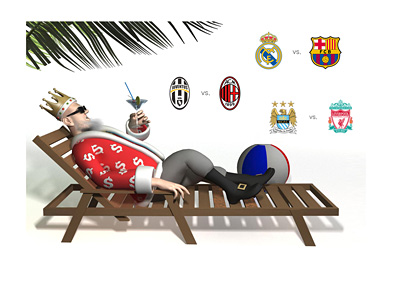 With all do respect to the Euro 2016 qualification playoffs and dozens of international friendlies that took place over the last ten days or so, European club football is finally back this weekend and it feels really good.
Club football is not only back, but back with a bang!
We have four great matches to look forward to this coming Saturday, November 21st, 2015. One in Spain, one in England, one in Italy and one in Germany.
The top game is the La Liga showdown between Real Madrid and Barcelona. Lionel Messi may or may not participate due to injury, but nevertheless, this is the biggest club match of the year so far.
Real Madrid: 29/20
Draw: 5/2
Barcelona: 17/10
In the Bundesliga we have another attempt by a German club to give Bayern a game. It seems impossible these days. They are too good. Can Schalke catch them cold after the international break?
Schalke: 12/1
Draw: 5/1
Bayern: 2/9
Manchester City vs. Liverpool should be a treat. City players are chasing the title, while Liverpool players are trying to impress their new coach Jurgen Klopp. Should be a fast paced game with goals galore.
Manchester City: 8/13
Draw: 3/1
Liverpool: 9/2
In Serie A, we have an old school matchup between the two most decorated Italian clubs. Both Juventus and AC Milan are struggling this year, but that will not take away from the spectacle.
Juventus: 11/20
Draw: 11/4
Milan: 11/2
--
Pretty sweet football Saturday coming up.
Enjoy the games everyone!