Simon Mignolet is all of a Sudden Playing Amazingly Well for Liverpool FC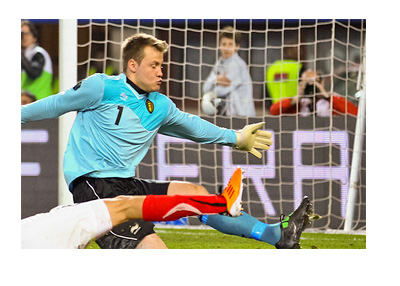 After 53 consecutive games between the posts, Liverpool manager Brendan Rogers was seriously considering replacing out-of-form Belgian keeper Simon Mignolet with Brad Jones, which he ultimately did on December 14th before a match against Manchester United. But Mignolet was destined to be back with the Reds. His entry was facilitated by an injury to Jones some time in December end. Jones signed off 12 minutes after the start in a game with Burnley. Liverpool who were struggling to remain inside the top ten at the beginning of season are now at sixth and within just 2 points of fourth place Manchester United.The Reds have won six of their last seven games and they have one man to thank for this turnaround in fortunes - Simon Mignolet.
This was the same man who was castigated by fans and management alike for Liverpool's poor beginning to the season. A flurry of errors, inability to hold his own inside the six-yard box and a sheer loss of confidence left manager Rodgers with no other choice. The short stint on the sidelines during the "Brad Jones interlude" seemed to have done him a world of good. After replacing an injured Jones 12 minutes into the Burnley match he maintained a clean sheet during the remainder of the game which Liverpool won 1-0. This was followed by clean sheets against Sunderland, Aston Villa, West Ham and Everton. Mignolet was outstanding in a February 17 game against Tottenham, which the Reds won 3-2 and had it been not for the Belgian's exploits the result could have been very different.
Despite controversial refereeing decisions plaguing Sunday's encounter with 5ht placed Southampton, it was the 26-year old Belgian who stole the show bringing off five magnificent saves and ensuring that his side hung on to the 2-0 scoreline till the end. This was Mignolet's eighth clean sheet of the season. The 26-year Belgian's performance has been contagious and Liverpool look much sharper in the defense department conceding just four goals in the New Year. The £9 million transfer of 2013 from Sunderland will face his most acid test this year when Liverpool run into EPL champions Manchester City next Sunday, March 1.