UEFA Champions League Football is at Stake for AC Milan as they Visit Siena in the Last Round of Serie A on Sunday, May 19th, 2013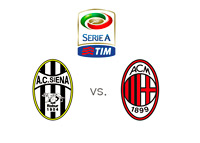 Already relegated, 19th place Siena are hosts to 3rd place AC Milan in the 38th and last round of the Italian Serie A on Sunday, May 19th, 2013 at the Artemio Franchi stadium.
AC Milan, who have won three and tied one out of their last four games, need three points out of the upcoming match to secure a spot in the UEFA Champions League 3rd qualifying round. Fourth place Fiorentina are trailing by 2 points and are playing against last place US Pescara on Sunday, ready to capitalize on a potential slip-up by the Rossoneri. In addition to two points, only three goals part AC Milan and Fiorentina in the tables which means that only a win would make sure AC Milan end up in 3rd place.

Video Highlights



Siena are currently on a five match losing streak and in those five matches they have scored one goal and conceded eleven.
AC Milan and Siena played 2-1 earlier in the season at San Siro stadium.
Lets take a look at the odds for the upcoming match:
Siena: 14/1
Draw: 11/2
AC Milan: 2/11
AC Milan are huge favourites to win at the bookies and $100 wagered on the guests could earn $18 in profit, while the same wager on Siena could earn $1,400 in profit.
Siena are a discouraged team at the moment, already relegated partly due to the six point punishment handed to them by the Italian Football Association (Federcalcio) for match fixing.
AC Milan are riding a good wave of wins and are looking to close the season on a strong note and qualify for the UEFA Champions League.
It would take a small miracle for Siena to win on Sunday considering that Champions League football is at stake for AC Milan.
Lets see how this one plays out!