Spanish Copa del Rey Semi-finals 2nd Leg - Sevilla vs. Atletico Madrid
On Wednesday Feb 27th at 10pm local time Sevilla are hosts to Atletico Madrid in the 2nd leg of the Copa del Rey semi-final. The score in Madrid was 2-1 for Atletico.
Full Time Result
Sevilla 11/8
Draw 12/5
Atletico Madrid 15/8
To Qualify
Sevilla 7/4
Atletico Madrid 4/9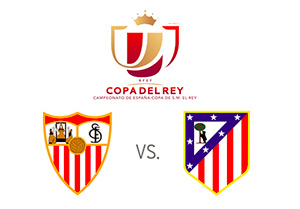 Atletico Madrid are favourites here. A $100 bet on Atletico to qualify to the final could bring in $44 in profit while the same bet on Sevilla could bring in $175.
Atletico are in 2nd place in the La Liga with 56 points after 25 matches while Sevilla are in 12th place with 32 points.
Atletico Madrid beat Sevilla 4-0 in the league on November 25th, 2012.
Most recently Atletico beat Espanyol 1-0 in the league after getting booted out of the UEFA Europa League by FK Rubin 2-1 on aggregate. As Atletico are 12 points behind Barcelona in the league, Copa del Rey is their only chance to get a trophy this season, not counting the UEFA Super Cup win in August that is technically part of the 2011/12 season.
Sevilla most recently lost to Barcelona at Camp Nou 2-1 after beating last place Deportivo 3-1 at home.
Should be a good game. The winner will play either
Barcelona or Real Madrid
.