Game Preview: Serbia vs. Croatia - World Cup Qualifying - September 6th, 2013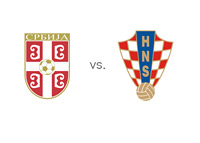 With three games to go in Group A, Serbia host Croatia in a World Cup qualifying match on Friday, September 6th at Stadion Crvena Zvezda in Belgrade.
Serbia can theoretically still qualify for the World Cup in Brazil, but the chances of that happening are very small. At the moment they are in 3rd place in Group A with 7 points. They are behind Croatia, who have 16 points, and Belgium, who have 19 points.
Croatia need one point out of their next three matches to secure the second spot in the group, which will most probably lead them to 'Continental Play-Offs'; here, they could qualify for the World Cup. Croatia are still in the race with Belgium for the first spot in the group that qualifies directly to Brazil, but the odds of that happening have significantly decreased since slipping in their last home match against Scotland earlier in June.
Croatia and Serbia met earlier in the qualifications this year and Croatia won the match with 2-0.
Let's take a look at the odds for the upcoming game in Belgrade:
Serbia: 13/8
Draw: 11/5
Croatia: 17/10
The game will be a close one, according to the odds. A 100 € bet on the hosts could yield 162 € in profit, while the same bet on Croatia could yield 170 € in profit. The most likely score, according to the odds, is a 1-1 draw, valued at 5/1.
Serbia are a stronger team now than they were last time the two teams met. Six Serbian players play for S.L. Benfica and they know each other very well. A lot is being talked about Nemanja Matic, who is said to be one of the top midfielders in Europe at the moment.
On the Croatian side, Mario Mandzukic of Bayern Munich and Luka Modric of Real Madrid are the two most recognizable names.
Mario Mandzukic is the favourite to score on Friday at 11/5 (bet 100 € to profit 220 €), while Lazar Markovic (Benfica) is the favourite to score for the Serbian side at 13/5 (bet 100 € to profit 260 €).
As the situation was in Zagreb for Serbian fans, there will be no Croatian fans allowed in the stands of Crvena Zvezda Stadion in Belgrade this Friday.
This should be a highly competitive match between two ex-Yugoslav nations.
Let's see how it plays out!